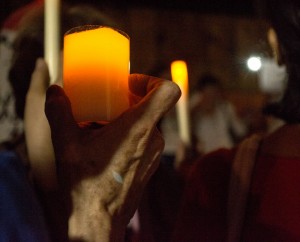 Mujeres de Nuevo México se unen a una Marcha Migrante
Por Isaac De Luna
Un grupo de locales se juntaron con 100 mujeres emigrante a empezar a caminar 100 millas de Philadelphia, Pennsylvania a Washington, D.C. para agarrar la atención de Papa Francisco en se visita en la capital de los Estados Unidos.
Con más de 100 mujeres, El Centro de Igualdad y Derechos – una organización  en Albuquerque que trabaja por los derechos de los Latinos – Organizaron una vigilia en apoyo a las 4 mujeres de Albuquerque que van a ir a la marcha para ampliar el mensaje de justicia, dijo Fabiola Bawden, una de las cuatro participantes.
"El mensaje principal que estamos llevado es que el ámbito político presente no va a definir a nuestra comunidad," dijo Bawden.
Originalmente de Ciudad Juárez, México, Bawden dijo que ella vino a Nuevo México hace 10 años y ahora es una organizadora de la comunidad en El Centro.
"Todos los emigrantes son humanos y merecemos ser respetados así" ella dijo.
Iliana Lopez es otra mujer que está representando el estado en la marcha. Originalmente vino de Mexico, ella dijo que emigro de su país como sobreviviente de violencia doméstica. Ella trabaja por Encuentro, una organización que ofrece educación adulta para familias inmigrante.
"Queremos dignidad y respecto," dijo Lopez "Es tiempo que la comunidad emigrante se dé cuenta que tenemos poder y es tiempo para usarlo."
El Representante del estado Javier Martinez dijo que la comunidad Latina va a seguir prosperando y cambiando la perspectiva del debate en inmigración, mientras que también aprueba el trabajo actual de la comunidad inmigrante para empujar contra la xenofobia en todo el país
"Nuestro voto va a cambiar el dinámico de la política en este país" dijo Martinez en su discurso de apertura en el evento. "Votando protege la sociedad y país de los que tratan de hacerle daño."
El grupo de mujeres de Albuquerque se unirán al esfuerzo mas grade en Baltimore, Maryland en septiembre 19 y continuaran el viaje a la capital de la nación. La vigilia se realizó en coordinación con la campaña nacional para Día de la ciudadanía, la fecha en que los residentes elegibles de los Estado Unidos son alentados a comenzar el proceso de naturalización.
Isaac De Luna es un estudiante de UNM en el departamento de periodismo y comunicación  
Esta historia originalmente fue publicada en el Daily Lobo.
________________________________________________________________
New Mexico women join march for migrant recognition
A group of locals is joining 100 migrant women as they set out on a 100-mile pilgrimage from Philadelphia, Pennsylvania to Washington, D.C. in hopes of attracting the support of Pope Francis during his visit to the nation's capital this week.
With more than 100 attendees, El Centro de Igualdad y Derechos – a local grassroots effort that fights for Latino rights – organized a vigil in support of the four Albuquerque women who will be joining the march to amplify its message of justice, said Fabiola Bawden, one of the four women who will participate.
"The main message we'll carry is that the present political sphere will not define our community," she said.
Originally from Ciudad Juarez, Mexico, Bawden said she immigrated to New Mexico 10 years ago and is now a community organizer through El Centro.
"All migrants are human beings, and we deserve to be respected as such" she said.
Iliana Martinez is another of the women representing the state in the march. Originally from Mexico, she said she emigrated from her country as a survivor of domestic abuse. She now works for Encuentro, an organization that offers citizenship, teaching and finance classes to Latino immigrant families.
"We want dignity and respect," she said. "It is time that the immigrant community realizes they have power, and it's time to use it."
State Rep. Javier Martinez, D-Albuquerque, said the Latino community will continue to thrive and change perspectives on the immigration debate, while also approving the current work of the immigrant community to push against xenophobia nationwide.
"Our vote will change the dynamics of politics in this country," Martinez said during his keynote speech at the event. "Voting protects our society and country from those who try to harm it."
The group of Albuquerque women will join the larger effort in Baltimore, Maryland on Sept. 29 to continue the journey to the nation's capital. The vigil was carried out on coordination with the national campaign for Citizenship Day, a date on which eligible residents of the U.S. are encouraged to begin their naturalization process.
Isaac De Luna is a UNM student in the Communication and Journalism Department.
This story was originally published in the Daily Lobo.