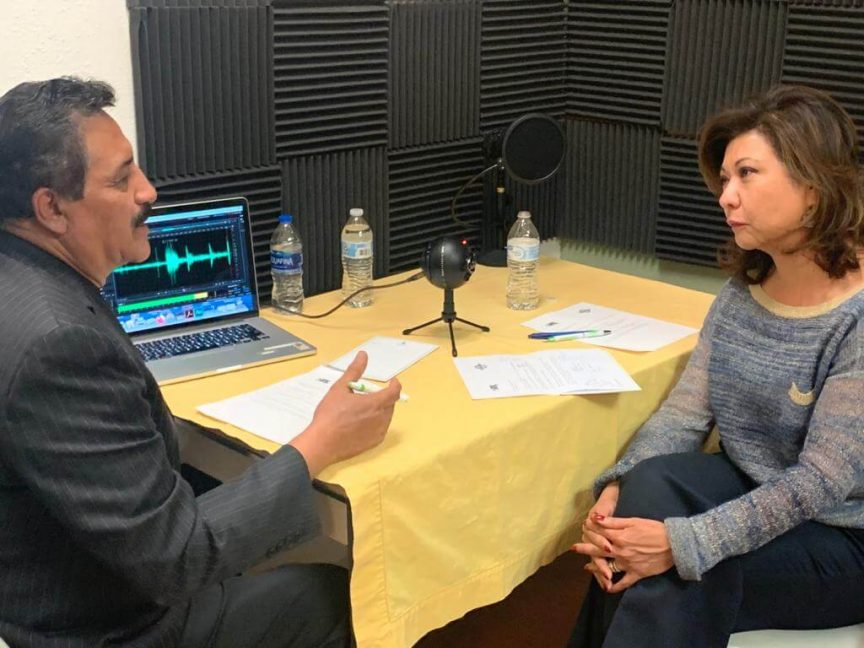 Encuentro Te Acerca al Consulado Mexicano
Encuentro Te Acerca al Consulado Mexicano
Autores:  Guille Quiroz y Tu Voz Digital
De los mexicanos que viven fuera de su país, del 90% al 95% residen en Estados Unidos. En un esfuerzo por mejorar la calidad de vida de nuestros paisanos, el gobierno de México cuenta con una red consular de más de cincuenta consulados alrededor de los Estados Unidos, siendo el de Albuquerque el encargado de atender las necesidades de los mexicanos en el norte y centro del Estado de Nuevo México. Esto, bajo el liderazgo de la Cónsul Titular Norma Ang.
En esta edición, el equipo de "Tu Voz Digital" de Encuentro, trae para ustedes una cálida e informativa entrevista de la mano de nuestro periodista comunitario, Mario Aguilar, quien tuvo la oportunidad de conversar con la actual Cónsul de México en Albuquerque, Norma Ang,.En esta entrevista, Ang no solo nos comparte la misión del consulado y su funcionamiento,  sino también la información sobre los requisitos para obtener identificaciones como el pasaporte mexicano, la matrícula consular, así como los beneficios de la doble nacionalidad, traslado de restos a México y los diferentes programas que el gobierno ofrece a nuestros paisanos.
Si bien  en Encuentro nos dedicamos al empoderamiento a través de la educación adulta, una de nuestras misiones es lograr la justicia social en nuestra comunidad, por ende y tomando en cuenta que más del 90% de nuestros estudiantes son de origen mexicano, nuestro deber es darles acceso a la información y a los recursos disponibles para ellos; por ejemplo información los servicios consulares mencionados.
Entérate de dichos servicios que tal vez en algún momento tú o tus seres queridos se vean en la necesidad de adquirir.
Esperamos que esta entrevista sea útil y sirva para tu beneficio, ayúdanos a compartirla.
Estamos abiertos a tus preguntas, opiniones o comentarios.
Preparación y grabación: Periodistas Comunitarios de 'Tu Voz Digital' Mario Aguilar, Ilse Grijalva y Guillermina Quiroz
Edición de audio: Marisela Ramírez y Guillermina Quiroz
Consulado de México en Albuquerque
1610 4th St. NW, Albuquerque NM 87102
(505) 247-2147
Emergencias: (505) 270-7009
ENGLISH SUMMARY
Encuentro, Bringing You Closer to the Mexican Consulate
Authors: Guille Quiroz and Tu Voz Digital
Ninety to ninety-five percent of Mexicans living outside of their country reside in the United States. In an effort to improve the quality of life of our Mexican nationals, the Mexican government has a consular network of more than 50 consulates around the United States.The  Albuquerque-based consulate is in charge of serving the needs of Mexicans in  northern and central parts of New Mexico. All of this, under the leadership of the Titular Consul, Norma Ang.
This blog brings you a warm conversation that Community Journalist Mario Aguilar held with Ms. Norma Ang, current Director of the Mexican Consulate in Albuquerque and the state of New Mexico.  Ms. Ang has held this position for two years, and through this interview, she shares a vision of her role and the services this consulate has the obligation to bring to Mexicans as a representative institution of the Mexican government within the United States.
Ms. Ang not only shares with us the mission of the consulate and its operation, but also informs us on the requirements to obtain identifications such as the Mexican Passport, the consular registration, as well as the benefits of dual citizenship, transfer of remains to Mexico and the different programs that the government offers to our countrymen.
At Encuentro we are dedicated to strengthening our immigrant community through Adult Education, and a part of our mission is to promote social justice in our state;therefore, taking into account that more than 90% of our students are of Mexican origin, our duty is to facilitate access to the information and resources available to them, such as the information on consular services mentioned above.
We hope this interview will be very useful and serve your benefit. Help us share it!
We welcome your comments and opinions.
Preparation and recording: Tu Voz Digital, Community Journalists: Mario Aguilar, Guillermina Quiroz and Ilse Grijalva
Audio Edition: Marisela Ramirez and Guillermina Quiroz
Consulate of Mexico in Albuquerque:
1610 4th St NW, Albuquerque, NM 87102
(505) 247 2147
Emergencies: ( 505) 270 7009