iEncuentro Tiene un Nuevo Hogar!/ Encuentro Has A New Home!
(Scroll down to sign up for one of our monthly tours!/ Deslice hacia abajo para registrarse y acompa
ñ

arnos a uno de nuestros tours)
Encuentro is proud to announce that the dream of purchasing our first building has become a reality!/ 
iEncuentro se enorgullece en anunciar que el sueño de comprar un nuevo edificio se convirtió en una realidad!

El nuevo edificio, ubicado en 907 4th Street SW, está en el corazón del barrio Barelas en  Albuquerque, tiene una dimensión de 7200 pies cuadrados y ampliará el número de aulas a cinco, lo cual no solo nos permitirá albergar todos programas de Encuentro en un solo lugar,  pero también proveer cuidado de niños en sitio, oficinas para nuestro personal el cual va en crecimiento  y nos permitirá  proporcionar oficinas para organizaciones aliadas que ofrecen recursos esenciales para nuestras familias inmigrantes.. Los planos arquitectónicos están completos, la  renovación ya está en camino y hemos asegurado al contratista quién guiará el proceso de remodelación,el cual esperamos que dure hasta fin de año. En los próximos meses, compartiremos más detalles acerca de las renovaciones así como información acerca de cómo colaborar, futuros planes y eventos.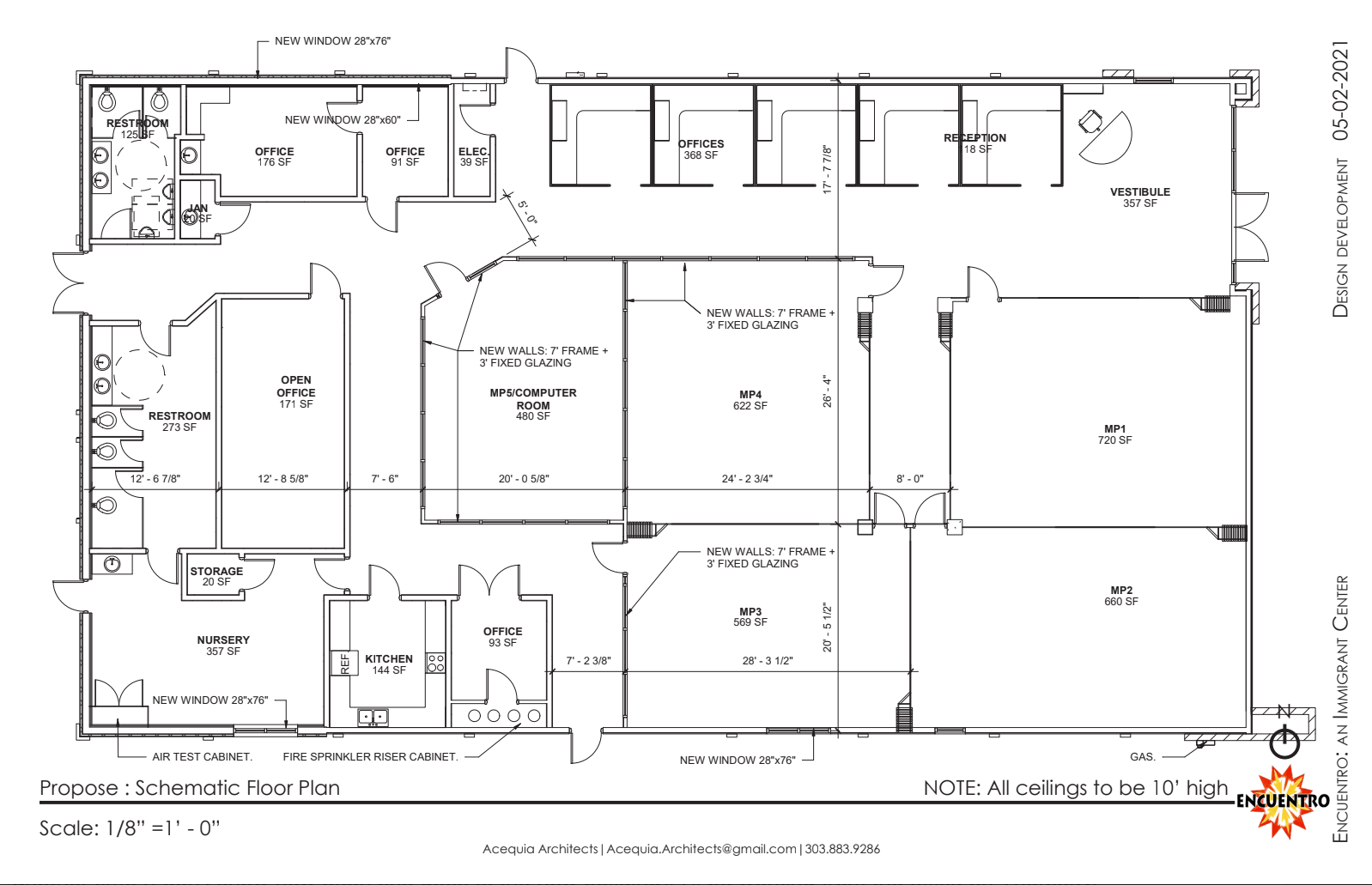 The new building, located at 907 4th Street SW, is in the heart of Albuquerque's Barelas neighborhood. It is 7200 square feet and will expand the number of classrooms to five, accommodate all of Encuentro's programs, on-site childcare, offices for our growing staff, and provide satellite offices to partner organizations offering essential resources to our immigrant families for years to come. The architectural drawings are complete, renovation plans are ready to go, and we have secured the contractor who will guide the remodel process, which we expect to take us through the end of the year. In the months to come, we will share updates on renovation as well as future plans and events and how you can contribute!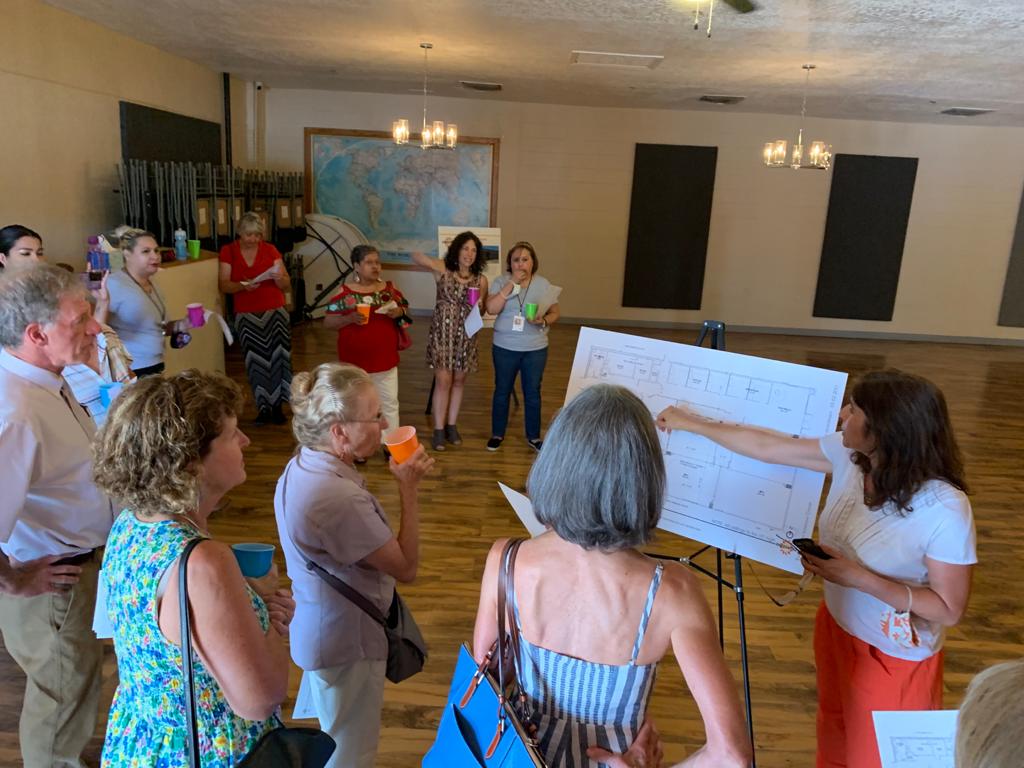 Estas fotografías fueron tomadas en un recorrido por el edificio con nuestro destacado Comité de Campaña Capital a principios de este mes. Agradecemos profundamente a Lynn Trojahn de Thrive Consulting y nuestro increíble equipo de aliados que lideran los esfuerzos de recaudación de fondos de la campaña de capital: Claudia Medina, Ilse Grijalva, Julie Radoslovich, iusti remer-thamert, Kevin Hoover , Maura Lewiecki, Nancy Croker, Patricia Telles, Robby Rodríguez y Selene Concepcion Vences-Ortiz. Su liderazgo y compromiso ha hecho posible este sueño para Encuentro. İMil Gracias!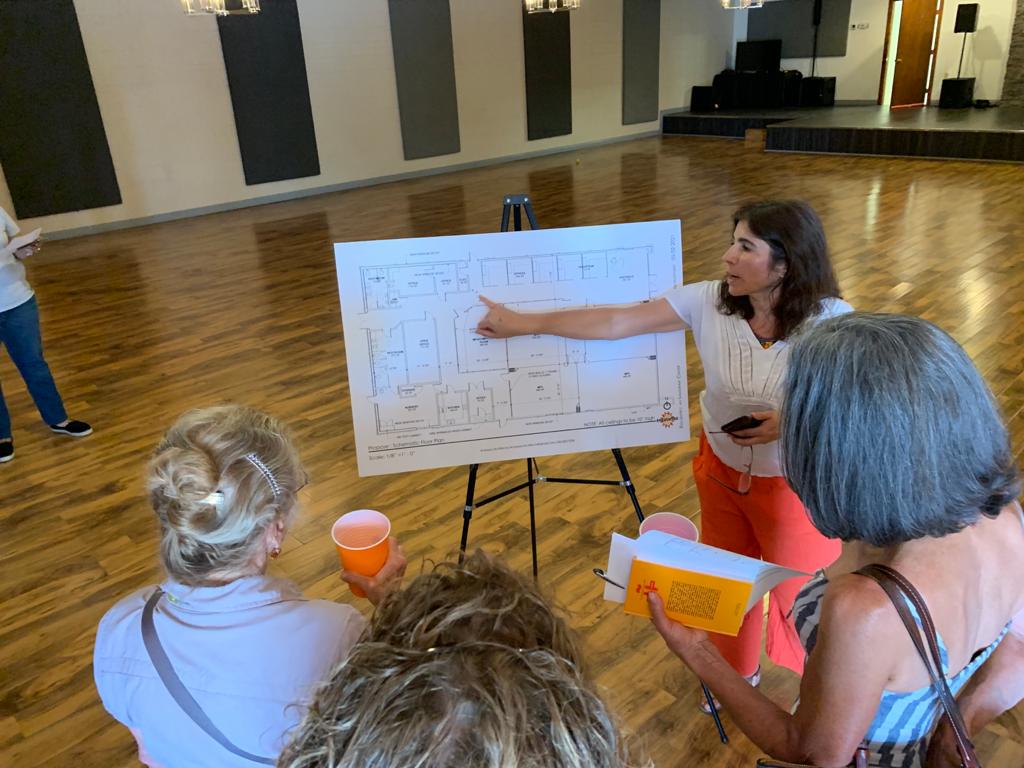 These pictures were taken at a building tour with our outstanding Capital Campaign Committee earlier this month. Please join us in deep appreciation for the loving support and expert guidance of Lynn Trojahn of Thrive Consulting and our incredible dream team of committed allies leading the capital campaign fundraising efforts:  Claudia Medina, Ilse Grijalva, Julie Radoslovich, iusti remer-thamert, Kevin Hoover, Maura Lewiecki, Nancy Croker, Patricia Telles, Robby Rodriguez, and Selene Concepcion Vences-Ortiz.  Their leadership and engagement has made this dream possible for Encuentro.  İMil Gracias!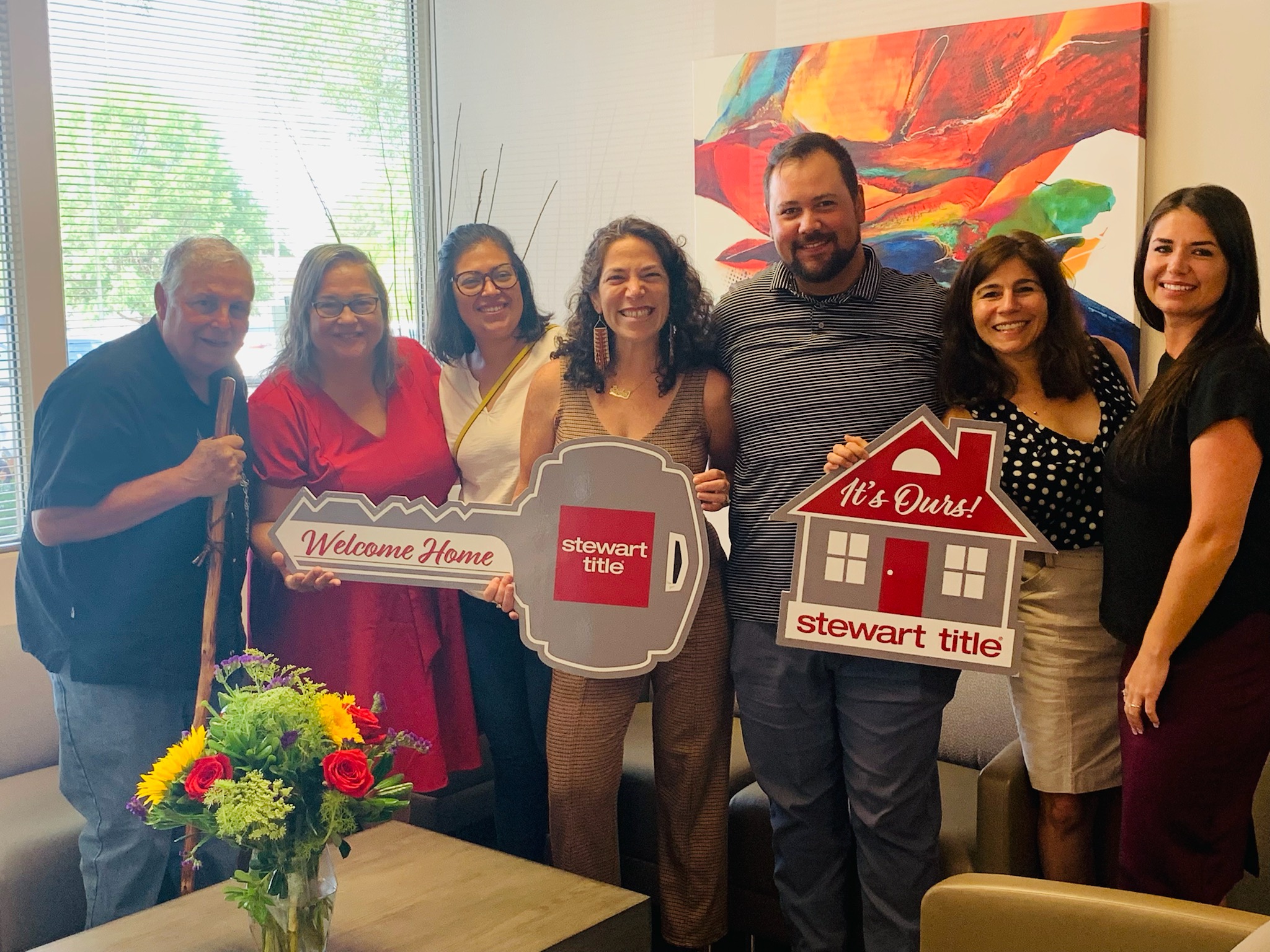 El equipo de Encuentro (Directora Ejecutiva Andrea Plaza, Presidenta de la Mesa Directiva Sandra Ortsman,  Miembro de la Mesa Directiva Selene Concepción Vences-Ortiz y la Directora de Desarrollo Julia Cusatis) estuvieron acompañadas por colegas de nuestro prestamista, Rio Grande Credit Union (Savannah Saavedra y John DuBois) y la inmobiliaria, Berger Briggs (Dan Hernandez), para firmar el papeleo y presenciar este evento histórico.
Encuentro's team (Executive Director Andrea Plaza, Board President Sandra Ortsman, Board Member Selene Concepcion Vences-Ortiz, and Director of Development Julia Cusatis) was joined by colleagues from our lender, Rio Grande Credit Union (Savannah Saavedra and John DuBois) and realtor, Berger Briggs (Dan Hernandez), to sign the paperwork and witness this historic event.  
MORE OF OUR PLAN AND VISION/ MAS DE NUESTRO PLAN Y VISION…
Efficient and Larger Building

to bolster community-building efforts among Albuquerque's Latinx immigrant community:

 
Expands Encuentro facility to 7200 square feet, more than doubling building occupancy to nearly 300 people.

Centralizes Encuentro's onsite, educational activities and childcare facilities in one location.


Sera un edificio eficiente y más grande que servirá para continuar con la construcción comunitaria entre la comunidad de inmigrantes latinx de Albuquerque:

Expande las instalaciones de Encuentro a 7200 pies cuadrados, más del doble de la ocupación del edificio a casi 300 personas.
Centraliza el sitio de Encuentro, las actividades educativas y las instalaciones de cuidado infantil en un solo lugar.
Expanded Education & Training Classrooms

to develop essential language, literacy, financial, technology, and job skills to address the barriers immigrants face integrating in the US economy:
Expands onsite classrooms from two to five.

Includes a State-of-the-art Computer Lab to bridge the digital divide.

Provides a multi-purpose room for large group trainings and community-wide events.


Aulas de educación y capacitación ampliadas para desarrollar habilidades esenciales de lenguaje, alfabetización, finanzas, tecnología y trabajo para abordar las barreras que enfrentan los inmigrantes y asi, integrarse en la economía de los EE. UU.

Expande las aulas: ahora tendremos de dos a cinco.
Incluye un laboratorio de computación de última generación para así, derribar la brecha digital en la comunidad.
Proporciona una sala de usos múltiples para capacitaciones de grupos grandes y eventos comunitarios.
Private Offices

for growing staff with onsite office space for community partners:  
Community Navigators provide essential wraparound services and support to immigrant families every day. 

Satellite offices provide students with onsite community resources.

Ventilated office space to mitigate risks from Covid-19 and future pandemics


Oficinas privadas para personal en crecimiento con espacio también para recibir organizaciones aliadas:

Los Community Navigators brindan servicios integrales esenciales y apoyo a las familias inmigrantes todos los días.
Las oficinas satélites brindan a los estudiantes recursos comunitarios en el lugar.
Espacio de oficina ventilado para mitigar los riesgos de Covid-19 y futuras pandemias
UPDATES/ ACTUALIZACIONES (Sep. 3th, 2021)
La renovación de nuestro edificio comenzó el pasado mes de Julio iAqui algunas fotos!
The renovation of our building began last July. Here are some photos!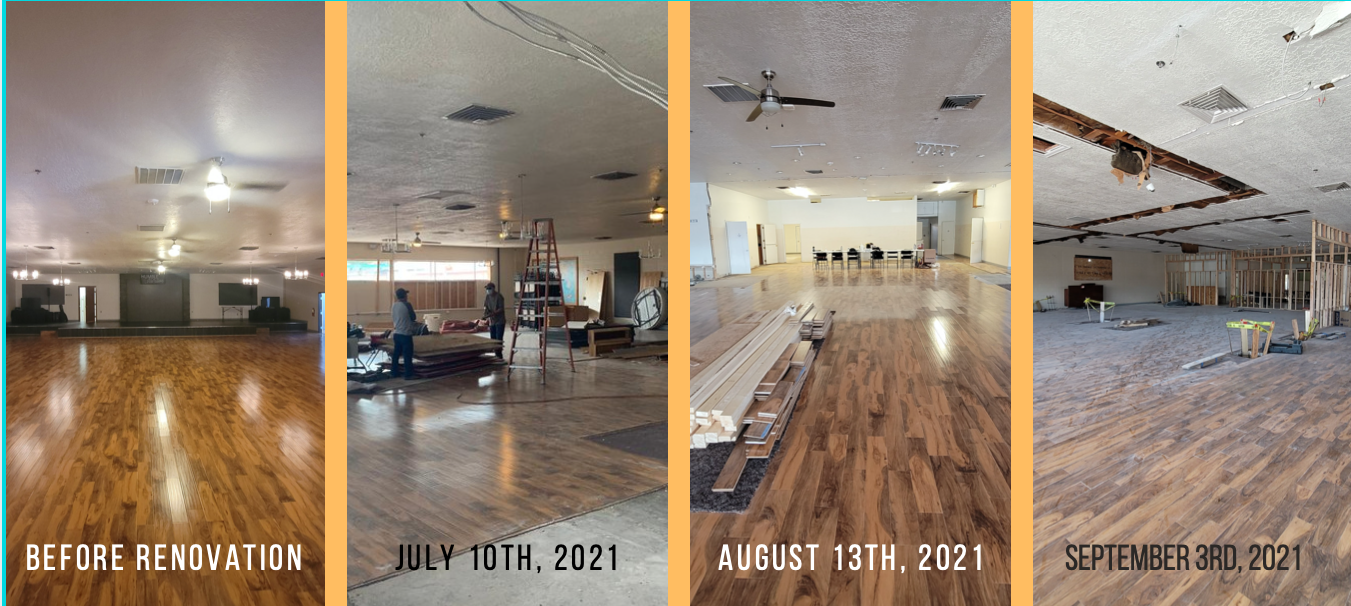 En este nuevo edificio Encuentro albergara TODOS sus programa bajo un mismo techo: se tendrá un salon de computadoras, mas cuatro salones donde se concentraran las clases de Ingles, ciudadania, Finanzas etc. Dichos salones estarán en el centro del edificio y contaran con paredes movedizas las cuales podrán ser removidas a conveniencia. Esto significa que al poderse mover, permitirá tener un espacio abierto que se usara como sala de usos múltiples para capacitaciones de grupos grandes y eventos comunitarios. Con esto, Encuentro busca seguir con su esencia de unidad y colectividad
Before our new building, many of Encuentro's classes were hosted off site. With this new building, Encuentro will be able to house ALL of its programs in one location. There will be a permanent computer classroom, along with 4 other rooms that will host our English, Citizenship and other classes. These 4 classrooms will have moving walls that allow us to create an open space for a multi-purpose room for large group trainings and community-wide events. This feature is important for Encuentro to continue with its essence of unity and collectivity.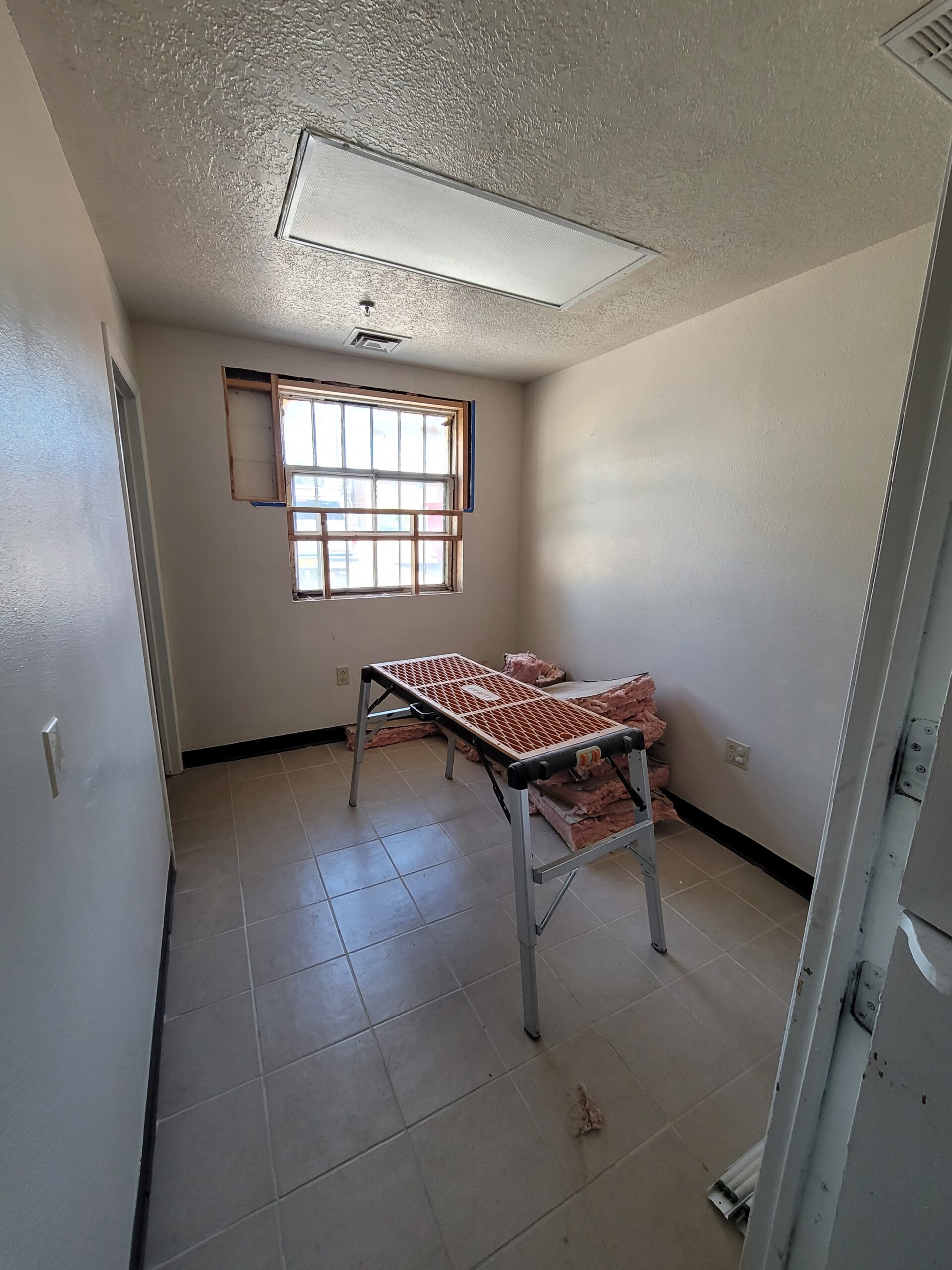 Cada oficina contara con una ventana que permitirá recibir luz natural, iTendremos mucha luz! (¿De quién crees que será está oficina? Pista: Muchas entrevistas se llevarán a cabo ahí)
Each office will have a window that will allow it to receive natural light. It will be a house full of light!  (Whose office do you think this will be? Hint: many interviews will take place there!)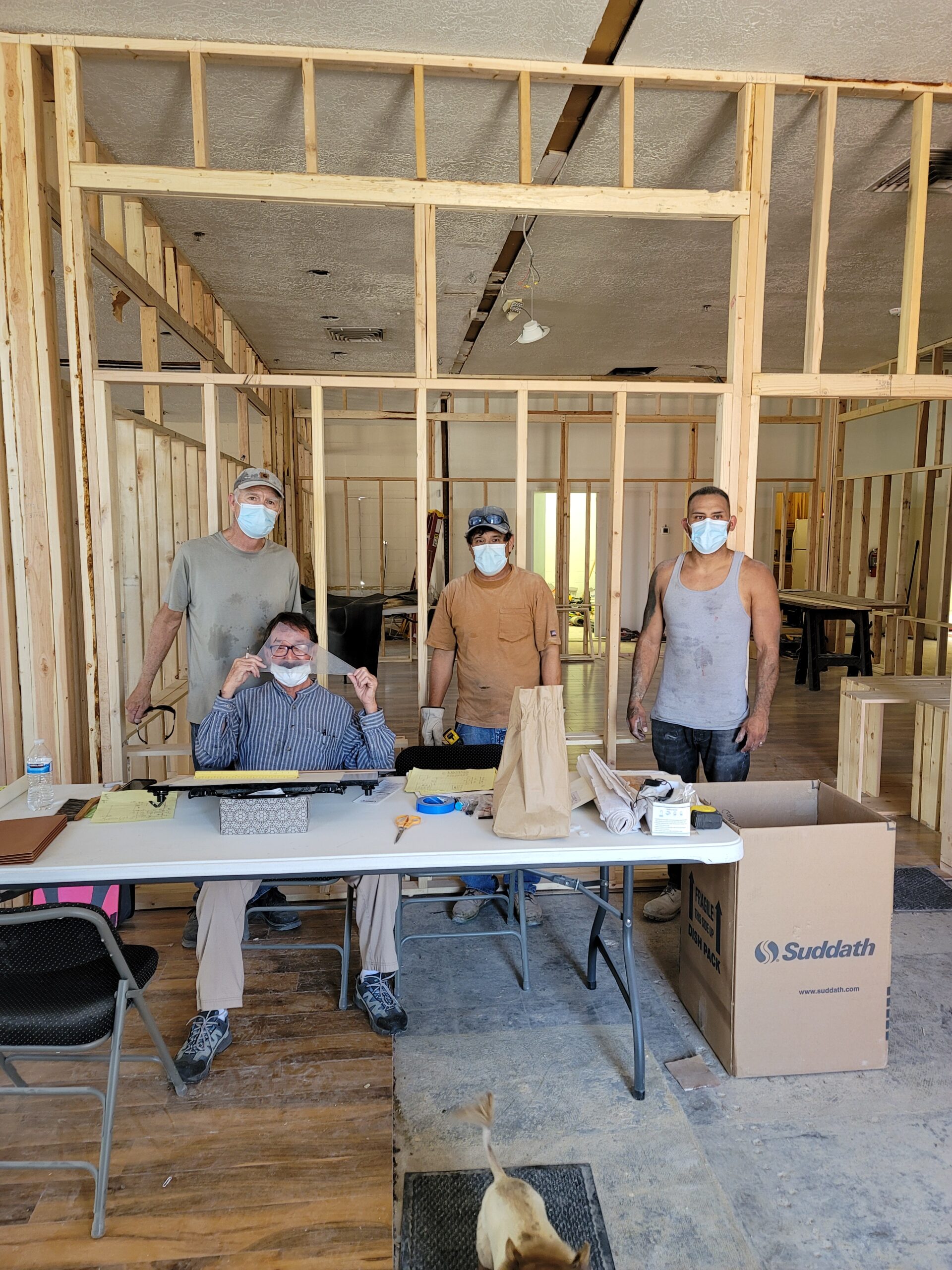 Ellos son las personas que estan trabajando a marchas forzadas en las renovaciones de nuestro nuevo hogar!/They are the guys who are making all of this work possible!
Gracias a Oscar, Ron, Michael y Adrian por el maravilloso trabajo de renovación que están haciendo en nuestro nuevo edificio! Es increíble la luz que tendrá, los espacios y los detalles que harán de nuestra organización, una hogar aún más cálido!
Thank you so much to Oscar, Ron, Michael and Adrian for the wonderful renovation work they are doing on our new building! It is incredible the light it will have, the spaces and the details that will make our organization an even warmer home
                                  Join one of our building tours!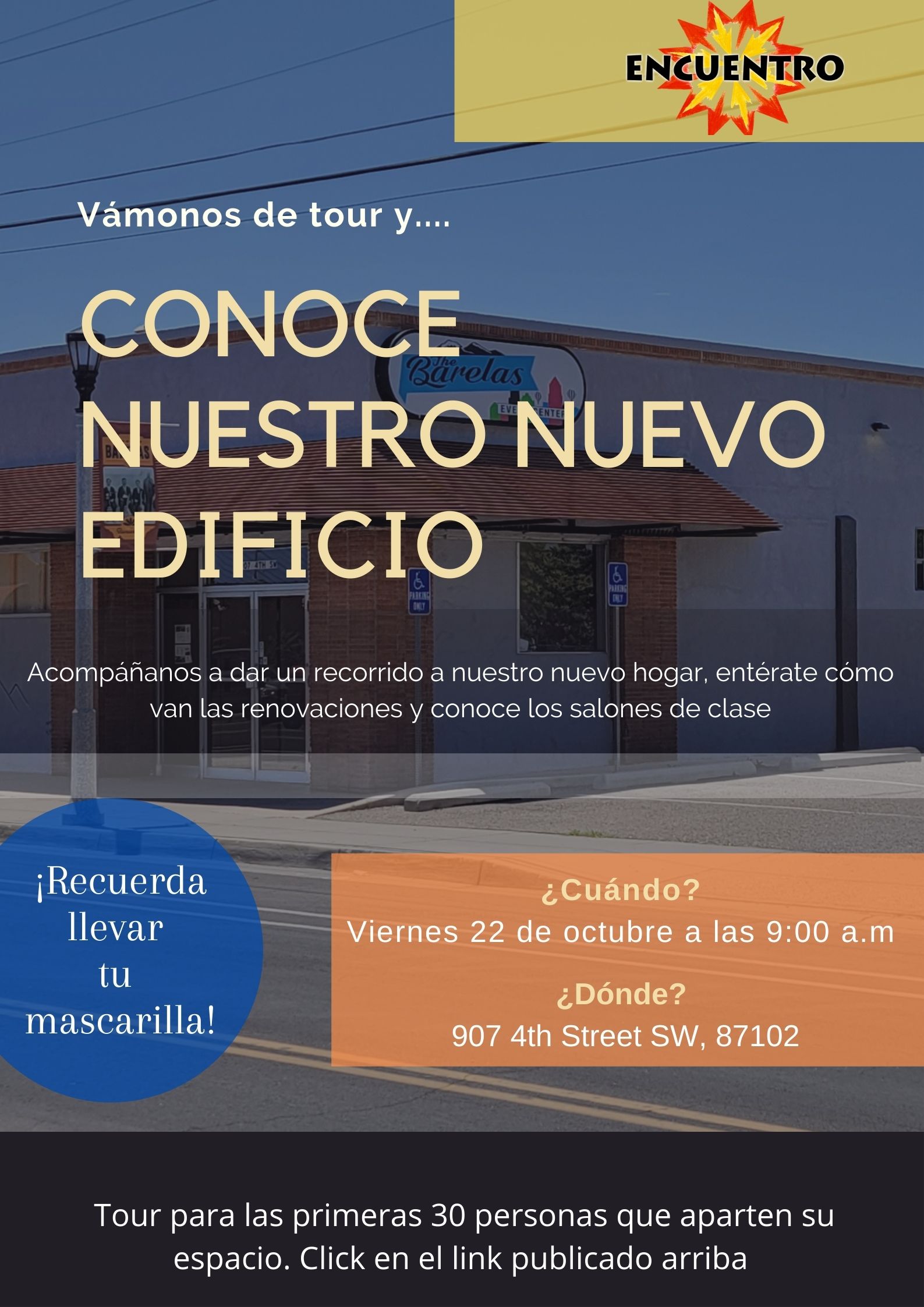 Encuentro's Board and Capital Committee will be leading building tours monthly. To sign-up for the next tour on October 22th, 2021 at 9:00 am, click here:
https://forms.donorsnap.com/form…
La Junta Directiva y el Comité de Capital de Encuentro liderarán tours mensuales en nuestro nuevo edificio. Para inscribirse y asistir al próximo tour el 22 de octubre de 2021 a las 9:00 am, haga clic aquí:
https://forms.donorsnap.com/form…
Tours are limited to the first 30 people who sign up and all participants are asked to follow COVID safety guidelines and wear a mask
Los tours están limitados a las primeras 30 personas que se inscriban. Se les pide a todos los participantes que sigan las pautas de seguridad de COVID y usen una máscara.
Stay tuned! More information about the building, tours, renovations and more coming soon!
¡Manténganse al tanto! ¡Más información sobre el edificio, recorridos, renovaciones y más próximamente!
Si desea participar, obtener más información sobre el edificio o programar un recorrido personal, comuníquese a través de: [email protected]. Tenemos la intención de proporcionarle actualizaciones periódicas para que conozca el estado de este proyecto y pueda unirse a nosotros para celebrar los hitos a lo largo del camino.
If you would like to get involved, learn more about the building, or schedule a personal tour, please contact us: [email protected].  We intend to provide you with periodic updates so that you will know the status of this project and can join us in celebrating the milestones along the way.