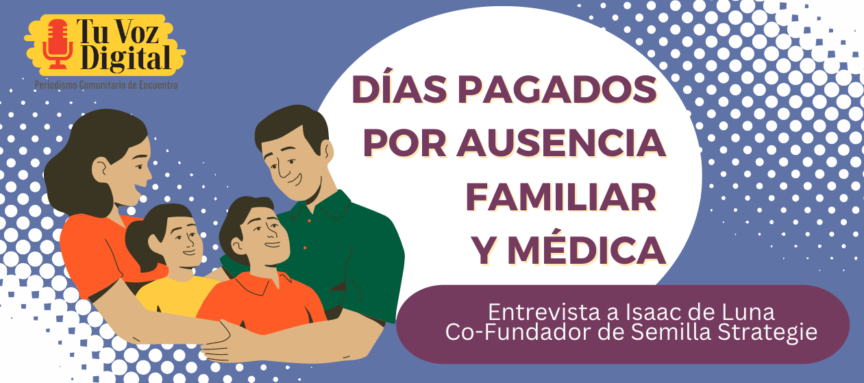 TVD Interview: Días pagados por ausencia familiar y médica en NM con Isaac de Luna Navarro
(English description below)
Nadie debería tener que elegir entre su trabajo y el cuidado de un nuevo bebé, un familiar enfermo o su propia salud.  Sin embargo, esa es la situación en la que se encuentran muchos trabajadores estadounidenses. Estados Unidos es la única nación de la OCDE que no ofrece algún tipo de licencia familiar o médica remunerada.
Con el Departamento de Soluciones de la Fuerza Laboral administrando el Fondo Fiduciario de Licencia Familiar y Médica Pagada, la iniciativa garantiza que las familias tengan el tiempo que necesitan para vincularse después de dar la bienvenida a un nuevo hijo, tiempo para recuperarse de un problema de salud grave y tiempo para que los cuidadores familiares aborden las necesidades médicas de sus padres, hijos u otros miembros de la familia enfermos.
Los programas PFML también son efectivos para mejorar el desempeño y el compromiso de los empleados. Los estudios muestran que los empleados que toman una licencia paga tienen menos probabilidades de tomar una licencia por enfermedad cuando regresan, es más probable que sean empleados de la misma empresa dos años más tarde y es más probable que informen tener un alto nivel de moral y satisfacción en el lugar de trabajo.
¿En qué se diferencia esto de la licencia por enfermedad ya implementada en NM a mediados de este a-o? ¿Cómo beneficiaría PFML no solo a los empleados sino también a los empleadores? ¿Cuál es el estado actual de PFML? Como podemos apoyar esta iniciativa en la legislatura? Para responder a todas estas preguntas, Tu voz digital te trae esta conversación con Isaac de Luna, cofundador de Semilla Strategie, quien actualmente se desempeña como coordinador de comunicaciones de la coalición PFML liderada por Southwest Women's Law Center y quien nos compartió detalles de la implementación de esta iniciativa que ser aprobada a principios del 2023.
Para leer más sobre PFML, visite la pagina de Southwest Women's Law Center https://swwomenslaw.org/paid-family-medical-leave-
No one should have to choose between their job and caring for a new baby, a sick family member, or their own serious health condition. Yet, that is the situation many American workers find themselves in. The U.S. is the only OECD nation that does not offer some form of paid family or medical leave.
With the Department of Workforce Solutions administrating the Paid Family & Medical Leave Trust Fund, the initiative ensures that families have the time they need to bond after welcoming a new child, time to recover from a serious health problem, and time for family caregivers to address the medical needs of their sick parents, children, or other family members.
PFML programs are also effective in improving employee performance and engagement. Studies show that employees who take paid leave are less likely to take sick leave when they return, more likely to be employed by the same business two years later, and more likely to report high morale and workplace satisfaction.
How is this different from the sick leave already implemented in NM? How does PFML would benefit not only employees but also employers? What is the current status of PFML? To answer all of these questions, Tu voz digital brings to you this conversation with Isaac de Luna, Co-funder of Semilla Strategie who is currently serving as the communications coordinator of the PFML coalition lead by Southwest Women's Law Center.
To read more about PFML visit https://swwomenslaw.org/paid-family-medical-leave-act/