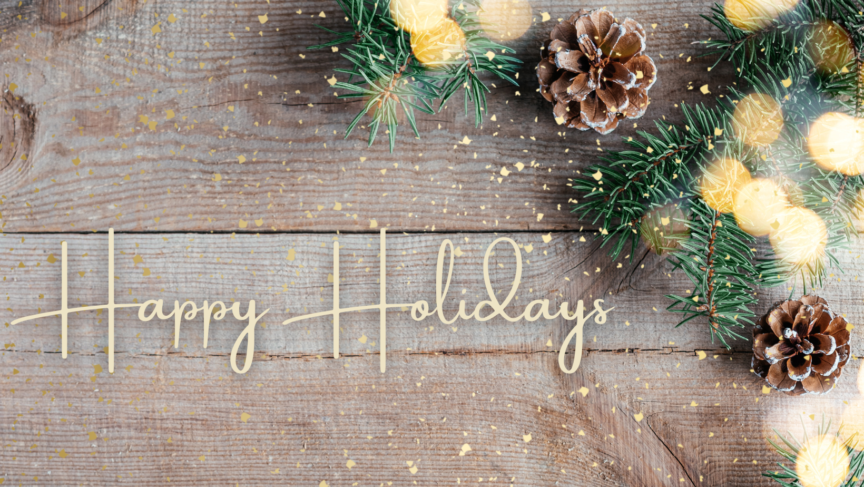 From Encuentro … with gratitude and love
As we say goodbye to 2022, the Encuentro family extends our warmest wishes for joy, peace and prosperity for all.
Antes de que finalice el 2022, la familia de Encuentro extiende nuestros más cálidos deseos de alegría, paz y prosperidad para todos ustedes.
Encuentro Students – Thank you for your commitment to education, drive to build new language, literacy and job skills, and the many ways you enrich our community!
Estudiantes de Encuentro- ¡Gracias por su compromiso con la educación, su impulso para desarrollar nuevos idiomas, alfabetización, habilidades laborales y las muchas formas en que enriquecen a nuestra comunidad!
Encuentro Teachers – How lucky we are to benefit by your expertise as Educators and compassion as people . . . Thank you for bringing a world of learning into our community!
Maestros del Encuentro- Somos afortunados de tener de beneficiarnos de su experiencia como educadores y de su compasión como personas.
.
.
¡Gracias por traer un mundo de aprendizaje a nuestra comunidad!
Encuentro Board – Your dedication to justice, commitment to la comunidad inmigrante, and willingness to share your talents to sustain Encuentro is unparalleled. We appreciaten you!
Mesa Directiva – Su dedicación a la justicia, compromiso con la comunidad inmigrante y voluntad de compartir sus talentos para sostener Encuentro no tiene comparacion. ¡Gracias!
Encuentro Staff –Thank you for the bountiful ways you express your creativity and work to propel day-to-day operations and keep Encuentroalive and growing. iGracias!
Personal de Encuentro- Gracias por las generosas formas en que expresa su creatividad y trabajo para impulsar las operaciones diarias y mantener Encuentro vivo y creciendo. ¡Gracias!
Encuentro Volunteers, Allies, Donors, Funders and Friends –Thank you for your commitment to adult education and strengthening our immigrant community. Your generosity fuels Encuentro's mission and makes our community complete. Put simply, we could not exist without you.
Voluntarios, Aliados, Donantes, Financiadores y Amigos del Encuentro -Gracias por su compromiso con la educación de adultos y el fortalecimiento de nuestra comunidad inmigrante.
Su generosidad alimenta la misión de Encuentro y completa nuestra comunidad.
En pocas palabras, ¡no podríamos existir sin ti!
And to our dearest Readers – Muchisimas gracias for you engagement with Encuentro this year and sharing your time, talent and treasures!
Y a nuestros queridos lectores- ¡Muchas gracias por su compromiso con Encuentro este año y por compartir su tiempo, talento y tesoros!
In observance of the upcoming holidays, our office will be closed from Monday, December 19th to Thursday, January 3rd.
Staff will be unavailable during this time but feel free to leave a message and we will get back to you as soon as we can.
Lastly, as we wrap up a busy and successful year, we look forward to a time of rest and reflection.
En conmemoración de las próximas vacaciones, nuestra oficina estará cerrada desde el lunes 19 de diciembre hasta el jueves 3 de enero.
El personal no estará disponible durante este tiempo, pero no dude en dejar un mensaje y nos pondremos en contacto con usted lo antes posible.
Por último, mientras terminamos un año ocupado y exitoso, esperamos un tiempo de descanso y reflexión.