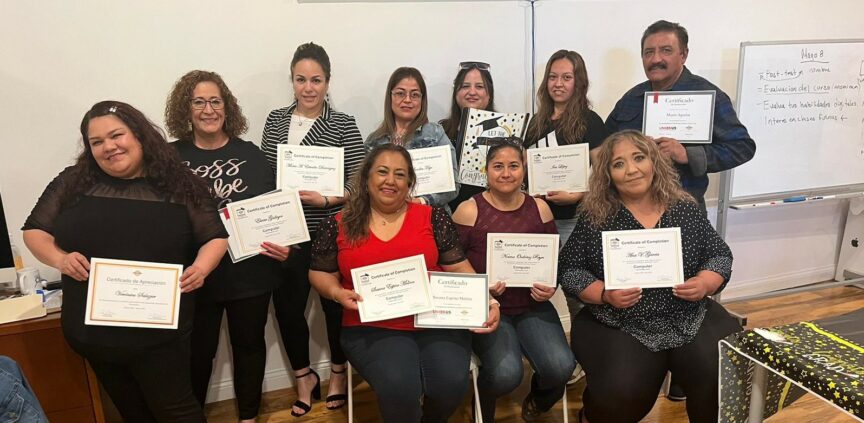 Graduations: A moment of PRIDE for all! // Graduaciones: Momento de Orgullo para TODOS!
This academic year comes to a close
Over 225 working immigrant parents and adults successfully completed their hybrid courses: English as a Second Language, Computer Literacy, Citizenship,Small Business Training and Financial Literacy, Home Health Aide Entry-Level Course and Senior Nutrition.
Graduation is a moment of great pride for our students. It is the culmination of a goal that required a lot of sacrifice, as many of our students are not just dedicated to studying, but also have other responsibilities, such as being parents, grandparents, or working two jobs. Despite these challenges, they come to class every day and fulfill their responsibilities as students. Their determination to excel helps them successfully obtain their competition certificates, which marks the start of a new business or the acquisition of a new skill. This can lead to better job opportunities and open doors that were once thought to be closed.
When students come to Encuentro, they are not just here to learn, but to open a new world of possibilities in the United States. This is why graduation is a very special time for Encuentro and our community.
Este curso académico llega a su fin
Este ciclo escolar conluye de manera exitosa para los más de 225 estudiantes quienes concluyeron sus cursos híbridos: inglés como segundo idioma, computación, ciudadanía, capacitación en pequeñas empresas y alfabetización financiera, curso de nivel de entrada para asistente de salud en el hogar y nutrición para personas mayores.
La graduación es un momento de enorme orgullo para nuestros estudiantes ya que marca la culminacion de una meta mas lograda. Tomemos en cuenta que la mayoria de nuestros estudiantes llegna hasta este momento con mucho sacrificios ya que no oslo se dedican a estudiar: muchos son padres de familia, abuelos, inmigrantes trabajdaroes dedicadods a los suyos. Eso hace aun mas desafiante el reto de venir diariamente a sus clases y cumplir con sus responsabilidades como estduiantes. Sin embargo, el deseo de superacio, supera cualquier desafio y con exito logran recibir sus certificados de completicion marcando asi, el inicio de un nuevo negocios, la implementacion de una nueva habilidad aprendida, el paso hacia un mejor trabajo y la apertura de esa puerta que muchos creian cerrada.
Y es que venir a Encuentr no es solo venir a aprender: es abrir un nuevo mundo. Cuando nuestrso estudiantes ingresan por primera vez a las aulas de Encuentro, comienzan a ver nuevas posibilidades en los Estados Unidos. Al graduarse, recibieron sus certificados de logros, celebraron con la comunidad y lograron nuevos sueños para ellos y sus familias.
Reflections of the Graduations…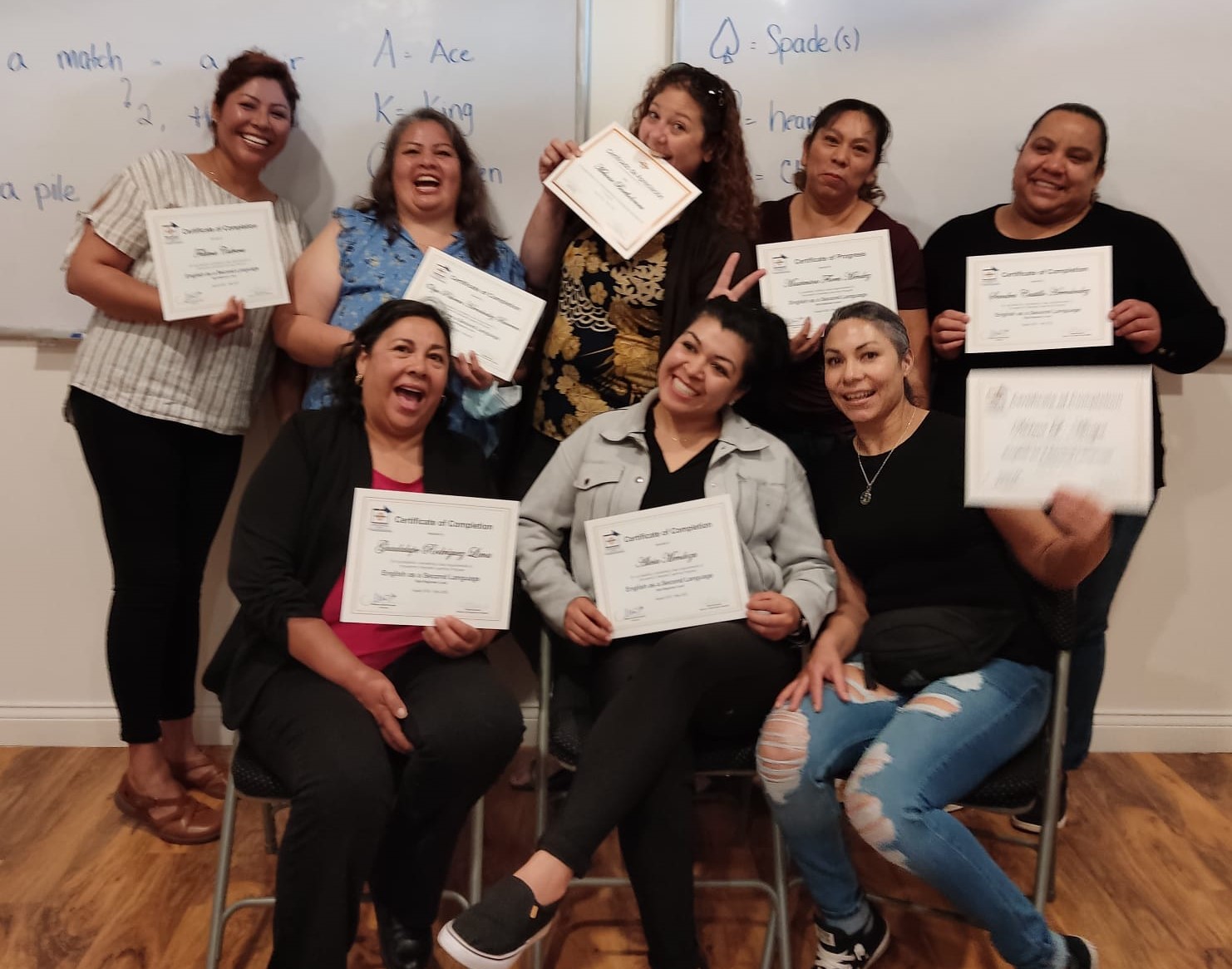 Hooray! English as a Second Language students received their certificates and advanced to the next level!// ¡Hurra! ¡Los estudiantes de inglés como segundo idioma recibieron sus certificados y avanzaron al siguiente nivel!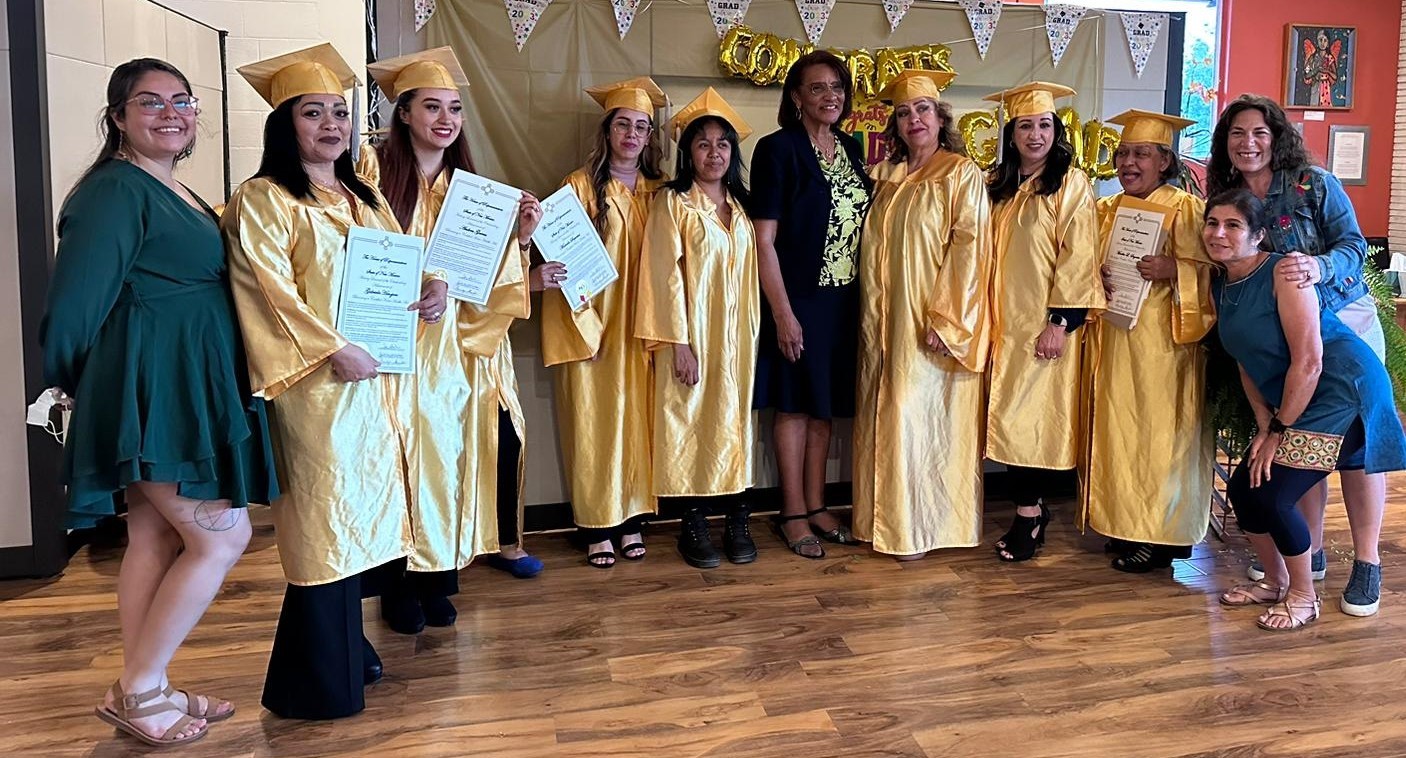 Well done! NM State Representative Pamelya Hernon was the guest speaker at our Home Health Aide graduation and handed out certificates of recognition to our graduates // ¡Bien hecho! La representante estatal de Nuevo México, Pamelya Hernon, fue la oradora invitada en nuestra graduación de asistente de salud en el hogar y entregó certificados de reconocimiento.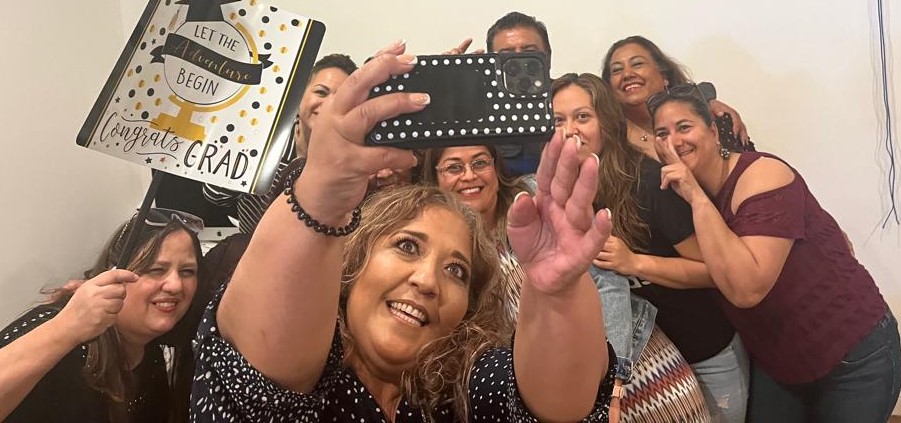 Encuentro is a warm and festive space where students cultivate friendships and graduation offers a chance to celebrate accomplishments and the relationships they have built throughout the year  // Encuentro es un espacio cálido y festivo donde los estudiantes cultivan amistades y la graduación ofrece la oportunidad de celebrar los logros y las relaciones que han construido a lo largo del año.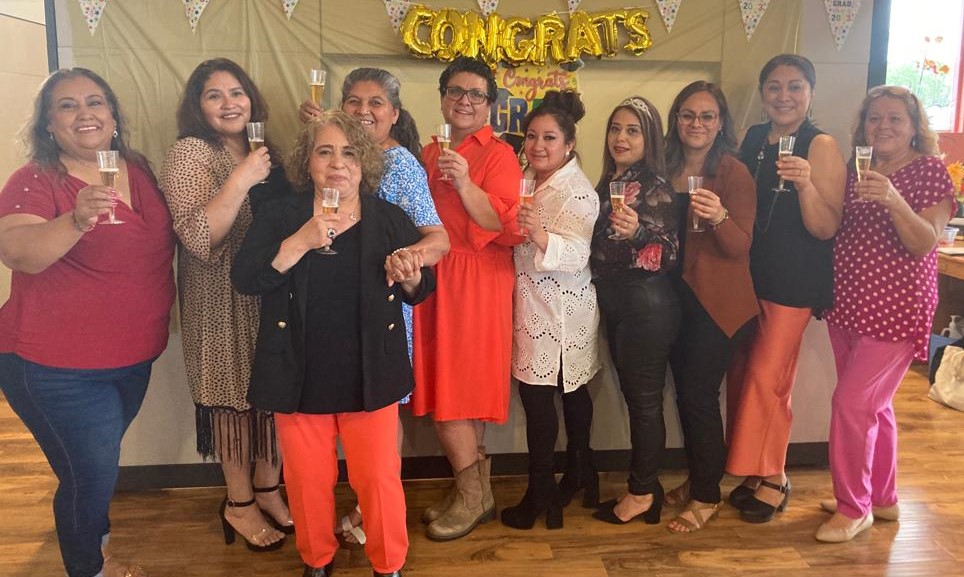 These leaders graduated from the 2nd cohort of Encuentro's HHA Leadership Program. They are sharing their lived-experience and knowledge to help shape programs and strenghten the field // Estas líderes se graduaron de la 2da cohorte del Programa de Liderazgo HHA de Encuentro. Están compartiendo su experiencia vivida y sus conocimientos para ayudar dar forma a los programas y fortalecer el campo.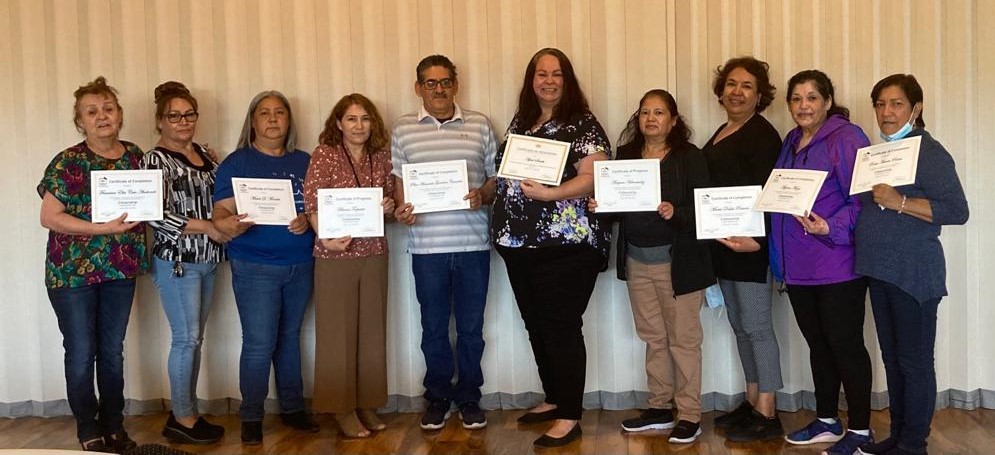 The graduation for citizenship students marks the final steps of preparation before their naturalization test… now they're ready to become US citizens! // La graduación para estudiantes de ciudadanía marca los pasos finales de preparación antes de su examen de naturalización… ¡ahora están listos para convertirse en ciudadanos estadounidenses!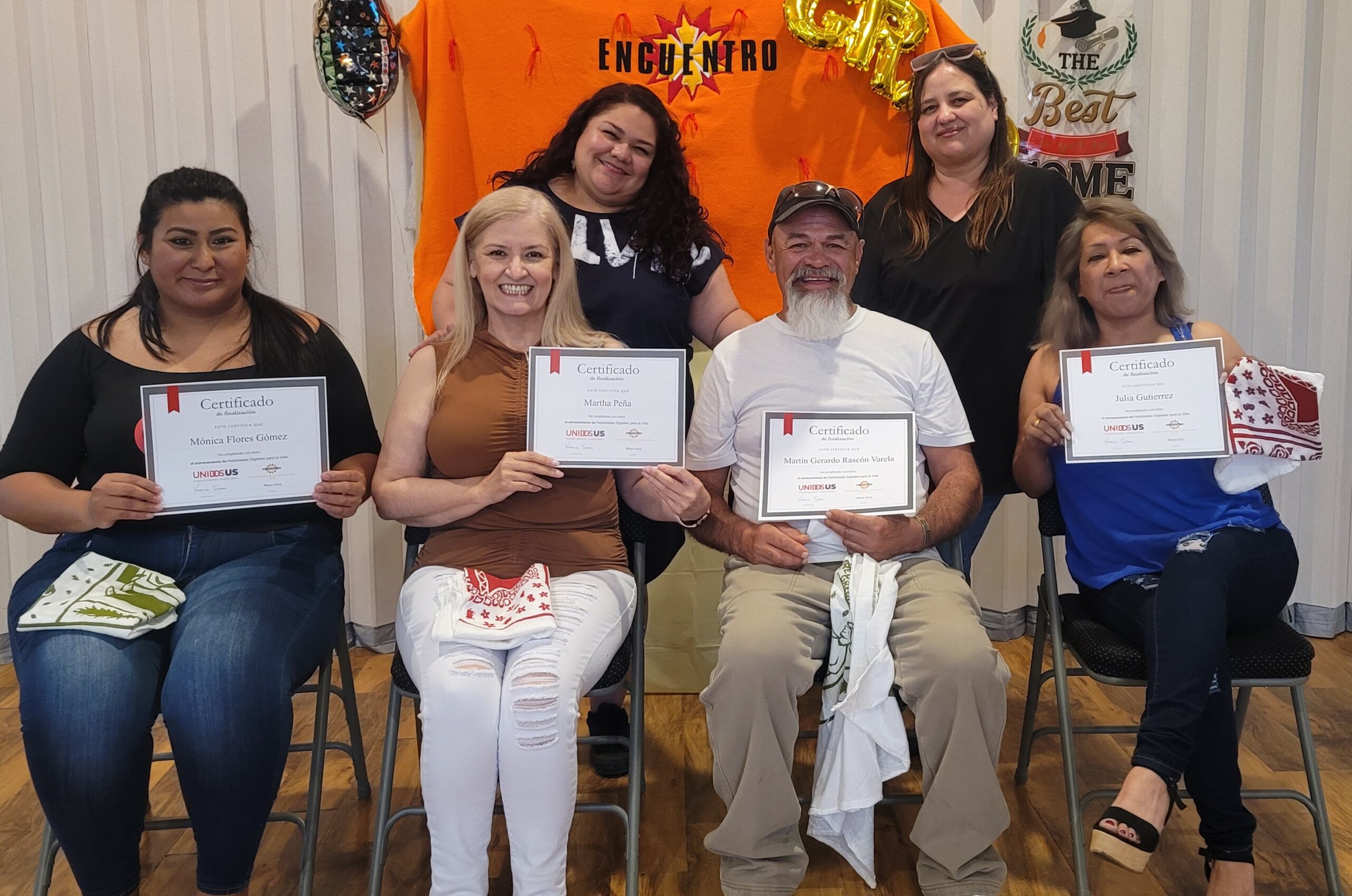 Graduates from our Unidos Pilot, Digital Skills for Life (DS4L), learned essential computer skills for daily living! // ¡Los graduados de nuestro Piloto Unidos, Digital Skills for Life (DS4L), aprendieron habilidades informáticas esenciales para la vida diaria!
Encuentro is honored to be part of their stories!
iEs un honor para Encuentro ser parte de sus historias!
Congratulations to all of our AMAZING students for completing another successful academic year!
iFelicidades a todos nuestros MARAVILLOSOS estudiantes por completar otro exito año escolar!