Position: Home Health Aide Training Program Coordinator
Department:  Home Health Training Program
Location:  Encuentro, Albuquerque, NM
Deadline date:  July 14 or until posting is removed
Encuentro seeks a dynamic and experienced Program Coordinator with facilitation and/or adult education experience to oversee Encuentro's Spanish language Home Health Aide (HHA) training program designed to provide educational and career development opportunities to Spanish speaking immigrants seeking to enter the fast growing field of home health.
Founded in 2010, Encuentro is a non-profit organization with a mission to transform our state into a thriving community for all New Mexicans by engaging with Latino immigrants in educational and career development opportunities that build skills necessary for economic and social justice. The organization operates with an annual budget of approximately $800,000. Encuentro enrolls over 400 students per year in programs such as ESL, computer training, GED, financial literacy and small business.  
The Home Health Aide training program has been underway since January of 2016 and over five semesters has enrolled, retained and graduated 100% of its students.  Home Health Aides are the fastest growing workforce in the state and Encuentro is a leader in promoting dignified training and career options for our graduates . This is an exciting time to join the Encuentro team as we work side-by-side with our Latino immigrant community and ally organizations to identify opportunities for advancement and full realization of immigrant contributions to our state. To learn more about the work of Encuentro please visit www.encuentronm.org and www.encasacare.com.
Position Overview:
Under the direction and supervision of the Executive Director, the Coordinator will help to implement the Home Health Aide training program, a semester-long certification program provided in collaboration with Central New Mexico Community College and conducted two to three times per year. The Coordinator collaborates closely with the organization's Home Health program team, the Education Department, the Communications Director as well as with program partners.
Responsibilities:
Oversees Home Health Aide course coordination and the integration between the CNM and Encuentro curriculum
Provides weekly course instruction to reinforce CNM HHA course content
Collaborates with HHA team to develop and implement elderly nutrition training program
Develops and implements strategies to recruit, register and retain students each semester
Coordinates student support programs including tutoring, childcare, agency site visits, guest speakers and general trouble shooting to best ensure student success
Oversees social media communication among students and graduates of the program
Conducts surveys, reporting and student data tracking in collaboration with Home Health and Education team
Provides ongoing analysis of program quality and relevance to workforce needs, and brings ideas to the Home Health team for strengthening the program and improving student experience
Represents Encuentro as a part of the National Domestic Worker Alliance
Supports student engagement in leadership development activities and continued educational opportunities
Qualifications:
Associate's degree or higher
Demonstrated experience in classroom and program management
Demonstrated commitment to immigrant rights and issues of social and economic justice
Fluency in English and Spanish, including reading, writing and speaking
Confident public speaker
Strong classroom management skills
Good interpersonal and communication skills, including an ability to navigate and resolve conflict in a manner that values and respects relationships with colleagues inside and outside the organization.
Solid organizational skills and attention to detail.
A self-starter and finisher with a demonstrated ability to manage projects and follow-through with minimal direct supervision.
Strong time management skills and the ability to work under pressure.
Expectations:
Emotionally mature, with a sense of humor and the ability to maintain balance and perspective.
A flexible team player who works collaboratively, shares responsibilities, and supports and acknowledges colleagues' contributions.
A commitment to diversity; respects differences of race, ethnicity, age, gender, sexual orientation, gender identity, religion, ability, arrest or conviction history, and socio-economic circumstance.
Personally committed to advancing the Encuentro's values, mission, goals and programs.
Willingness to work some nights and Saturdays.
Compensation and Benefits:
This is a full time hourly position.  Compensation is based on years of experience and the non-profit industry standard in New Mexico for a Program Coordinator. Salary range, $33,500 - $40,000 dependent on experience. Benefits include paid vacation, medical insurance, 401k plan, sick leave, and generous paid holidays.  
To Apply:
Send a resume (English) and cover letter (Spanish), addressing the responsibilities and qualifications referenced above to [email protected]. Please include your last name and "HHA Program Coordinator" in the subject line, and indicate in your cover letter where you found this job listing. No phone calls, please. Applications will be accepted until position is filled. Preference will be given to applications received by July 14, 2018.
Encuentro is an equal opportunity employer.  We value a diverse workforce and an inclusive culture. Encuentro encourages applications from all qualified individuals without regard to arrest or conviction, race, color, religion, gender, sexual orientation, gender identity and expression, age, national origin, marital status, citizenship, disability, and veteran status.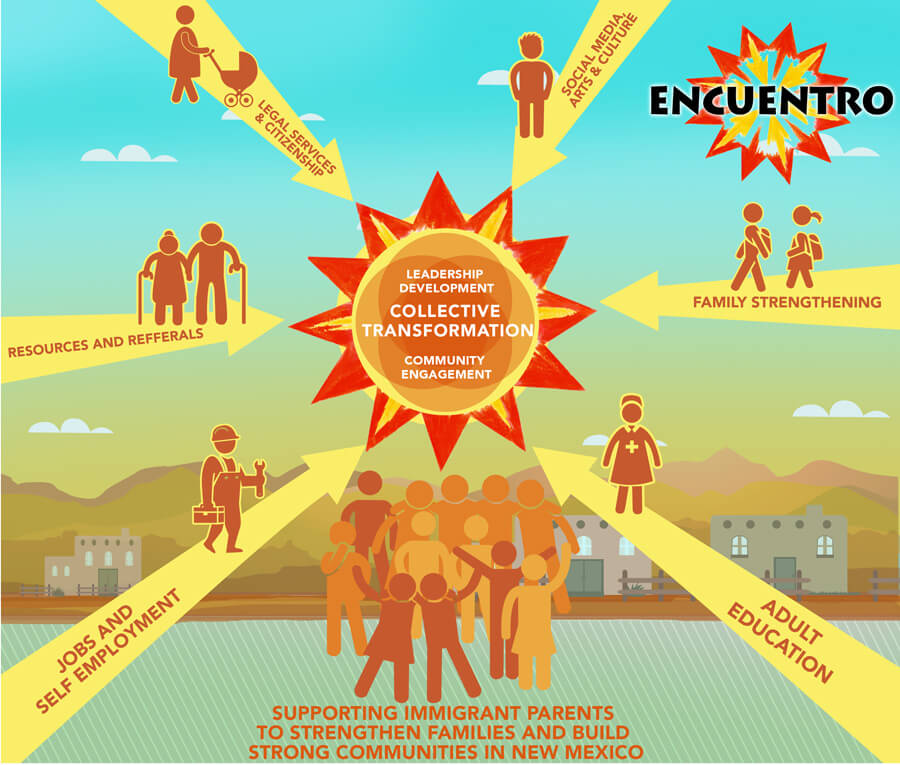 ---