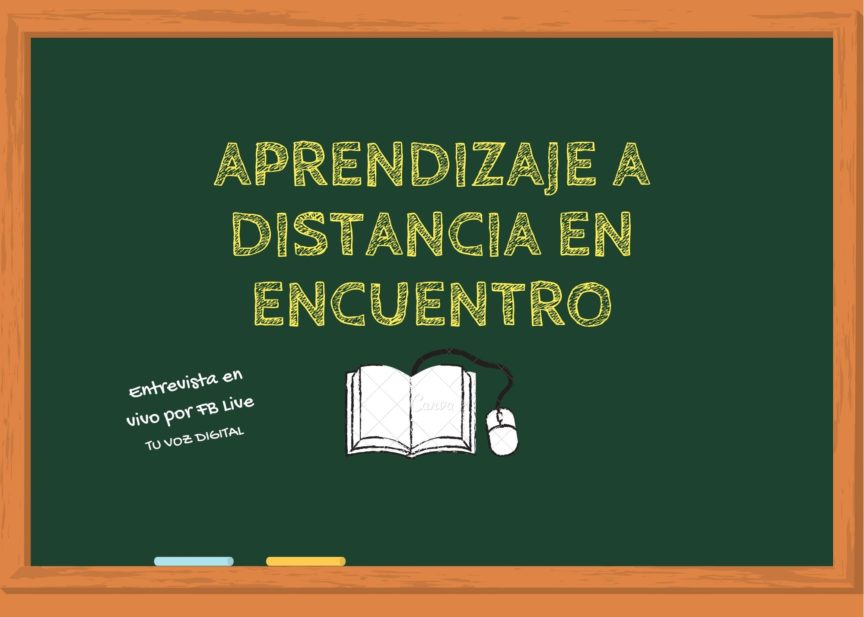 Aprendizaje a Distancia en Encuentro
Tu Voz Digital trae para ustedes "Aprendizaje a Distancia", nuestra tercer entrevista grabada en vivo por Facebook Live. En este ocasión, los maestros de Encuentro acompañados por nuestra Directora de Educación de Encuentro y la especialista en aprendizaje online, Monserrat Oyanedel, fueron los invitados quienes nos platicaron sobre los planes para este semestre en Encuentro. Se trata de un nuevo formato de enseñanza. Así es, los maestros se preparan para apoyar a estudiantes de encuentro de manera remota, es decir, en línea para así mantener su seguridad en tiempos de pandemia.
Si bien es un reto para los maestros, ellos cuentan con el apoyo y entrenamiento de la experta en educación a distancia Monserrat Oyanedel.
"Si ustedes pueden, yo también",son las palabras que nuestra querida maestra Pat Bonilla expresó para los estudiantes el pasado viernes 21 de agosto durante la entrevista. También expresaron las ventajas y el cómo este nuevo programa ayudará a derribar la barrera digital que existe en nuestra comunidad, "Lo peor que puede pasar, es que además de aprender inglés, los estudiantes aprendan de tecnología"- agregó el maestro Gerardo De Luna.
Estos y más detalles sobre este nuevo inicio de semestre en Encuentro en nuestra entrevista a continuación:
English Description:
Tu Voz Digital brings to you, "Distance Learning", our third interview recorded live on facebook. On this occasion, the Encuentro teachers, accompanied by our Encuentro Education Director and the online learning specialist, Monserrat Oyanedel, were the guests who told us about their plans for this semester at Encuentro. It is a new teaching format. That's right, teachers are currently getting ready to teach Encuentro students online. 
Although it is a challenge for teachers, they have the support and training of the expert in distance education, Monserrat Oyanedel.
"If you can do it, I can too", those are the words that our dear teacher Pat Bonilla expressed for the students during the August 21st interview. They also expressed the advantages and how this new program will help to break down the digital divide that currently exists in our community "the worst that can happen is that in addition to learning English, students will learn technology" – added teacher Gerardo De Luna
These and more details about this new semester at Encuentro,  in our interview below: