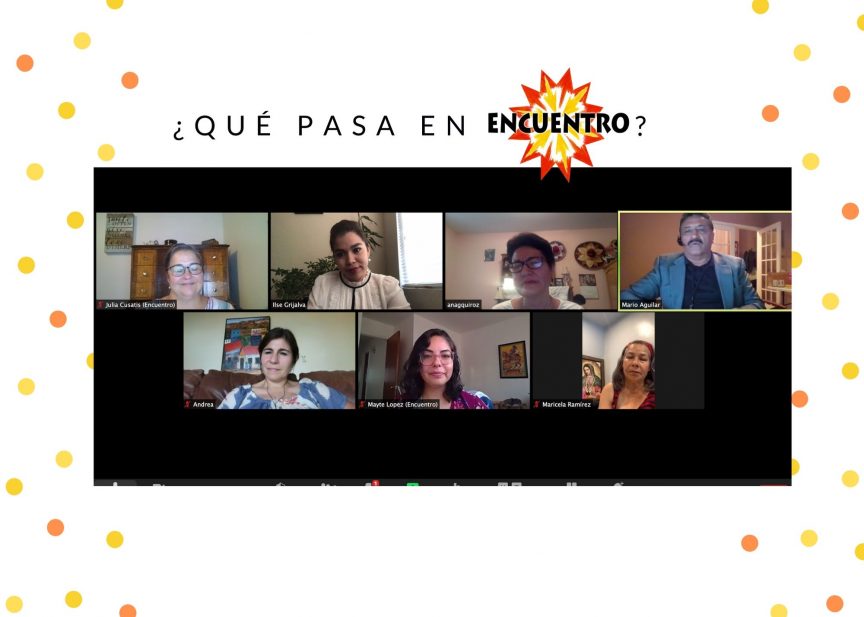 ¿Qué pasa en Encuentro?: Entrevista de TVD a Encuentro
En esta ocasión, nuestro equipo de periodismo comunitario Tu Voz Digital, trae para ustedes las ultimas actualizaciones del trabajo que en Encuentro se esta llevando a cabo, los cambios que ha habido y el trabajo que se seguirá haciendo en esta nueva realidad que vivimos debido a la pandemia.
En esta entrevista de 49 minutos, conocerá esta información de la mano de nuestras invitadas: nuestra Directora Andrea Plaza, quien nos cuenta como Encuentro ha enfrentado la pandemia y de que manera se impartirán las clases en Encuentro el próximo semestre, nuestra Directora de Desarrolla Julia Cusatis, quien nos platica como las fundaciones y donantes han tomado esta nueva modalidad de trabajo en Encuentro y la maestra de HHA Mayte Lopez, quien nos comparte su experiencia enseñándo clases en Linea y como los maestros se estarán preparando. Al final de la entrevista, podrá también ver la lista de recursos que Encuentro ha a creado para nuestra comunidad.
Le invitamos a que se mantenga al tanto de nuestras redes sociales y pagina web www.encuentronm.org para mayor información. Linea telefónica disponible: (505) 247-2920
English description available
On this occasion, our community journalism team Tu Voz Digital, brings you the latest updates on the work that is being carried out at Encuentro, the changes that have taken place, and, the work that will continue to be done with the new reality we are living due to the pandemic.
In this 49-minute interview, you will learn about this information first hand from our guests: Director Andrea Plaza. Andrea tells us how Encuentro has faced the pandemic and how classes will be taught at Encuentro next semester. Director of Development Julia Cusatis, who talks to us about how foundations and donors have taken this new way of working at Encuentro and HHA teacher Mayte Lopez, who shares her experience teaching classes online and how teachers will be preparing. At the end of the interview, you will also be able to see the list of resources that Encuentro has created for our community.
We invite you to keep updated via our social networks and website www.encuentronm.org for more information. Available phone line: (505) 247-2920