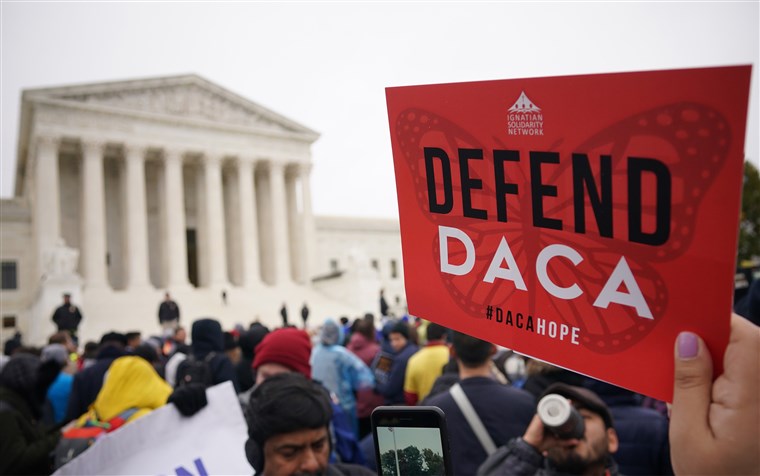 TVD Interview: Daca esta de regreso
(English Description below)
En 2012, el presidente Barack Obama lanzó el programa DACA,a modo de acción ejecutiva y como una medida temporal para proteger de la deportación a personas que hubieran llegado a Estados Unidos cuando eran niños. El estatus es renovable y se otorga por dos años, mismos en los que los jóvenes pueden no solo estar legalmente en el país, pero también trabajar. El programa no brinda una vía para obtener la ciudadanía.
Sin embargo, este proceso y la vida de miles de jóvenes soñadores se vieron afectados en el año 2017 cuando el ex presidente Donald Trump decidió interrumpir la implementación del programa. Desde ese momento, USCIS dejó de aceptar solicitudes nuevas. Sin embargo, los defensores de los inmigrantes lograron mantenerlo parcialmente vivo por algunas vías legales, significando esto que  la renovación de solicitudes continuariá.
Fue el viernes, 4 de diciembre cuando el DACA sufrió otro revés, pero en esta ocasión, uno muy positivo para nuestra comunidad: un juez Federal de Nueva York ordenó la implementación de DACA de manera original, es decir, siguiendo los mismos lineamientos de la orden propuesta por Obama en el 2012. 
En ese contexto y debido a la necesidad de información que existe en nuestra comunidad sobre el tema Daca para nuevos aplicantes, Tu Voz Digital trae para ustedes su primer entrevista del año, de la mano de la abogada experta en inmigracion, Martha Laura Garcia, de la organización local New Mexico Immigrant Law Center y de nuestros cinco periodistas comunitarios quienes a continuación le informan no solo el estado actual de DACA, pero también, platican  sobre los detalles del programa como requisitos, los cambios, tarifas y el advance parole.
iQue la disfruten, esperamos su comentarios!
Para contactarse con la organizacion New Mexico Immigrant law Center, visite la pagina: https://www.nmilc.org/?locale=en
In 2012, President Barack Obama launched the DACA program, an executive order and a temporary measure to protect people who came to the United States as children from deportation. DACA status is renewable and is granted for two years, during which young people cannot only be in the country legally, but also work. The program does not provide a pathway to citizenship.
However, this process and the lives of thousands of young dreamers were affected in 2017 when former President Donald Trump decided to interrupt the implementation of the program. Since then, USCIS stopped accepting new applications. However, immigrant advocates managed to partially keep it alive through some legal channels, meaning that renewal of applications continued.
It was on Friday, December 4, when DACA suffered another setback, but this time, a very positive one for our community: a Federal judge in New York ordered the implementation of DACA in an original way, following the same guidelines as the order proposed by Obama in 2012.
It is within this context and in recognition of the need for information on the DACA process for new applicants, Tu Voz Digital brings to  you their first interview of the year, on this occasion interviewing the immigration lawyer, Martha Laura Garcia, from the local organization New Mexico Immigrant Law Center and five of our community journalists who inform you not only of the current status of DACA, but also the details of the program such as requirements, changes, fees and advanced parole.
Enjoy it, we look forward to your comments!