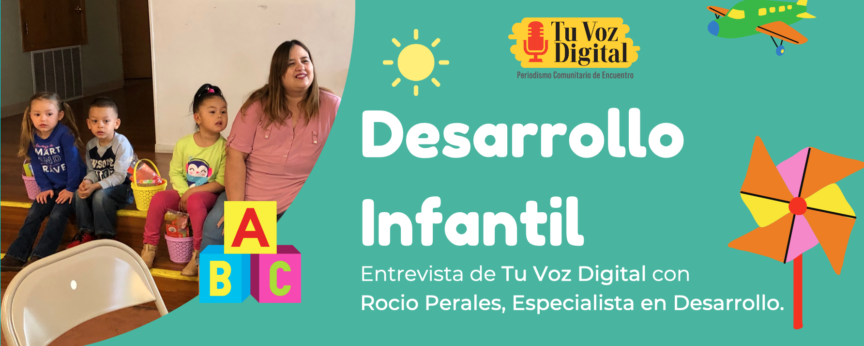 TVD Interview: Hablemos sobre Desarrollo Infantil con la experta en desarrollo Rocio Perales
Los primeros años de la vida de un niño son muy importantes para su salud y desarrollo. El desarrollo saludable significa que los niños de todas las capacidades pueden crecer donde se satisfagan sus necesidades sociales, emocionales y educativas. Tener un hogar seguro y amoroso y pasar tiempo con la familia—jugar, cantar, leer y hablar—es muy importante. Conoce más sobre cómo podemos apoyar a nuestros pequeños durante su desarrollo y qué estrategias podemos implementar para ayudarlos a través de Tu Voz digital. De todo esto habló con Rocío Perales, especialista en atención temprana de "Clínica Inspiraciones". ¡Tu Voz Digital y Encuentro saben que una comunidad saludable comienza con niños saludables!
Inspirations es un programa de intervención temprana que tiene un contrato con el Departamento de Cuidado y Educación de la Primera Infancia de Nuevo México para proporcionar de forma independiente una variedad de servicios de intervención temprana. El Programa para familias, bebés y niños pequeños es parte de los servicios de la Parte C de la Ley de educación para personas con discapacidades para niños desde el nacimiento hasta los tres años. Los servicios de Inspirations se rigen por las definiciones y estándares de servicio de Nuevo México para los servicios de la Parte C. Los servicios se financian a través de Medicaid de Nuevo México y los Fondos Generales del Estado de Nuevo México y los servicios se ofrecen en español, lo que los hace accesibles a nuestra comunidad de inmigrantes.
Si usted o alguien que conoce neceista apoyo con intervencion temprana, contacte a la clinica "Inspirations" ald (505)821-9930 y se localizan en el 8650 Alameda Boulevard NE, Suite 201-E, Albuquerque, NM 87122
The early years of a child's life are very important for his or her health and development. Healthy development means that children of all abilities, are able to grow up where their social, emotional and educational needs are met. Having a safe and loving home and spending time with family―playing, singing, reading, and talking―are very important. Learn more about how can we support our little ones during their development and what strategies can we implement to help them throught  Tu Voz digital talked about all this with Rocio Perales, early intervention specialist at "Inspirations Clinic". Tu Voz Digital and Encuentro knows that a healthy community, starts with healthy kids!
Inspirations is an early intervention program that is contracted with the New Mexico Early Childhood Education & Care Department to independently provide an array of early intervention services. The Family Infant Toddler Program is part of the Individuals with Disabilities in Education Act Part C services for children of ages birth to three years. Inspirations' services are governed by New Mexico's Service Definitions and Standards for Part C services. Services are funded through New Mexico Medicaid and New Mexico State General Funds and services are offered in Spanish,  which makes it accessible to our immigrant community.