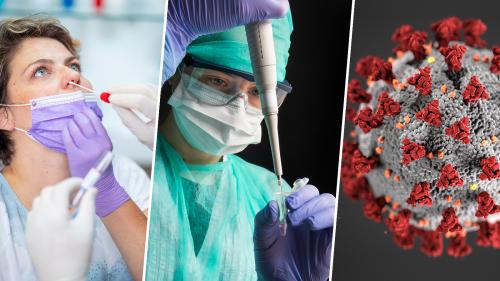 TVD Interview: Hablemos sobre el Covid-19 y las vacunas
Han pasado dos años y la pandemia del Covid-19 sigue afectando la salud y cobrando la vida de millones de personas en el mundo. Hoy en día, la sociedad no solo tiene que lidiar con el covid 19, si no también, con sus variantes y la desinformación que circula en redes sociales. Para fortuna nuestra, la ciencia ha hecho su parte y ya tenemos al alcance las vacunas las cuales, han prevenido a las personas de síntomas severos e incluso, de llegar al hospital. Lo que es preocupante, es ver las bajas cifras de personas vacunadas en diferentes puntos de la ciudad y es que aunque son muchos los esfuerzos de comunicación por parte del Departamento de Salud del Estado, solo el 70% de la población total de NM cuenta con las tres dosis de vacunas recomendadas por la CDC, convirtiendo a NM es uno de los Estados con menor población vacunada en su totalidad.
¿A qué se debe esto? Tu Voz Digital habló con Glenda Canaca, Medica general especialista en Salud pública y Directora de la campaña "Vacúnate con confianza" de la Universidad de Nuevo México, quien nos dio una actualización sobre la situación actual con la pandemia, sus variantes y el acceso a vacunas y pruebas caseras. Disfruta esta conversación y aprende junto con Tu Voz Digital, la mejor manera de seguirnos cuidando, como acceder a vacunación segura y cómo proteger a nuestra comunidad.
Fuente: New Mexico Department of Health
Two years have passed, and the Covid-19 pandemic continues to affect the health of millions of people worldwide. What is worse, society has to deal with covid 19 and its variants and the misinformation that circulates on social networks. Fortunately for us, science has done its part and we already have vaccines within reach, which have prevented people from severe symptoms and even from running to the hospital. What is worrying is to see the low numbers of people vaccinated in different parts of the state and that despite the State Department of Health efforts to inform people about the veracity of the vaccine, only 70% of the total population of NM has the three doses recommended by the CDC, making NM one of the states with the lowest population fully vaccinated.
Tu Voz Digital spoke with Glenda Canaca, General Practitioner specializing in Public Health and Director of the "Vacunate con confianza" campaign at the University of New Mexico, who gave us an update on the current situation with the pandemic, its variants, and access to vaccinations and home tests. Enjoy this conversation and learn along with Tu Voz Digitalm about the best way to continue taking care of ourselves, how to access safe vaccination and how to protect our community.