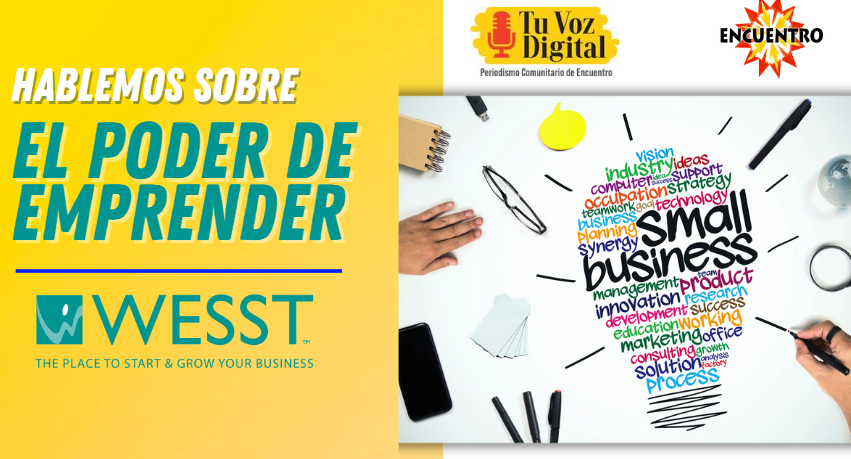 Hablemos sobre el Poder del Emprendimiento con Tu Voz Digital y WEEST
Nuestra comunidad inmigrante es una comunidad de emprendedores y el impacto de los dueños de pequeños negocios latinos en Estados Unidos es tal, que son el grupo de emprendedores con mayor crecimiento en los Estados Unidos. Según el portal USA TODAY, en los últimos 10 años, la cifra de los dueños latinos de sus propios negocios creció en un 34% comparado con el 1% de aumento en el número total de propietarios de negocios en todo el país, de acuerdo a un estudio reciente de Stanford University. Y más latinos que nunca están solicitando préstamos para lanzar o hacer crecer sus operaciones. Todo este impacto, a pesar del racismo sistemático al que nuestra comunidad se ve sometido. La barrera del idioma, la falta de documentos para la obtención de préstamos federales, la falta de recursos económicos y de información son solo algunos de los factores que enfrenta nuestra gente al momento de emprender.T
Con eso en mente, Encuentro se unio al colaborativo Color Theory y, con el objetivo de crear una red de organizaciones comunitarias e individuos dedicados a brindar apoyo integral a los empresarios de color, la teoría del color se creó para transformar el sistema de propiedad empresarial que prioriza los negocios privilegiados de propiedad blanca en un sistema que prioriza la equidad racial y Brinda oportunidades para que las personas de color con bajos ingresos salgan de la pobreza y se acerquen a la agencia económica. De igual manera, se desarrolló el programa de clases de pequeños negocios y finanzas de la mano de WESST, organización dedicada a la asesoría de individuos para la creación de sus negocios. "A través de esta colaboración (Encuentro y WESST, hemos desarrollado una formación empresarial únicaque se enfoca en servir a los inmigrantes de habla hispana". dice Adriana Martínez, gerente del programa Money Learning Lab y maestra de la clase de pequeñas empresas de Encuentro. "La colaboración de WESST y Encuentro nos permite unir nuestra experiencia para servir mejor a nuestra comunidad inmigrante y nos brinda la oportunidad de brindar educación significativa y de calidad."
En esta entrevista, Adriana Martinez de WESST, conversa con Tu voz digital sobre el poder del emprendimiento, las barreras que enfrenta nuestra comunidad y el cómo WESST apoya a nuestra comunidad a materializar esos sueños de emprendimiento además nos contó todo sobre el trabajo en conjunto con Encuentro. De igual manera, en esta entrevista celebramos las historias de éxito de los estudiantes emprendedoras de encuentro que con el apoyo de sus clases, han hecho crecer sus negocios como Norma Retana con su compañía de Norma's Cleaning quien nos cuenta cómo obtuvo su licencia comercial para expandir su negocios y Karen, dueña de una guardería quien ahora empodera a sus compañeros de clase en la expansión de sus negocios. iDisfruta es
The Latino community in the United States is contributing significantly to the country's small business sector, with a growing number of entrepreneurs emerging from the immigrant population. Stanford University's research has shown that Latino business owners have experienced a remarkable 34% growth over the past decade, far outpacing the 1% increase for all business owners nationwide. Despite the many challenges they face, including systemic racism, language barriers, and a shortage of resources and information, more and more Latinos are seeking loans to expand or start their businesses. These entrepreneurs are displaying tremendous resilience and determination as they work to overcome obstacles and achieve their goals.
With that in mind, Encuentro joined the Color Theory collaborative, and with the goal of creating a network of community organizations and individuals dedicated to providing comprehensive support to entrepreneurs of color, Color Theory was created to transform the business ownership system that prioritizes privileged white-owned businesses in a system that prioritizes racial equity; and Provides opportunities for low-income people of color to lift themselves out of poverty and closer to economic agency. Similarly, the program of small business and finance classes was developed by WESST, an organization dedicated to advising individuals for the creation of their businesses. "Through this collaboration (Encuentro and WESST), we have developed a unique entrepreneurship training that focuses on serving Spanish-speaking immigrants," says Adriana Martinez, Money Learning Lab program manager and teacher of Encuentro's small business class. "The WESST and Encuentro collaboration allows us to pool our expertise to better serve our immigrant community and gives us the opportunity to provide quality, meaningful education."
In an interview with Tu voz digital, Adriana Martinez discusses the power of entrepreneurship, the barriers our community faces, and how WESST supports our community in realizing their entrepreneurial dreams. She also talks about working together with Encuentro. The interview also celebrates the success stories of Encuentro student entrepreneurs who have grown their businesses with the support of their classes. Norma Retana of Norma's Cleaning company shares how she obtained her business license to expand her business, and Karen, a daycare owner, now empowers her classmates in expanding their businesses. Enjoy this inspiring interview!