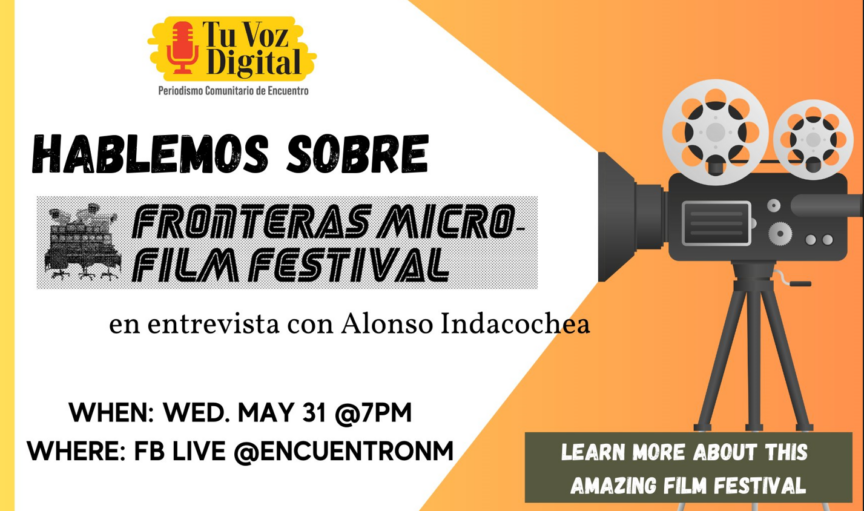 Hablemos sobre Micro Fronteras Film Festival con Alonso Indacochea de Dust Wave Film Collective
English below
¡El Festival de Microcine de Fronteras no es el típico festival de cortometrajes!
El colectivo cinematográfico Dust Wave ha estado produciendo cortometrajes premiados y sin presupuesto desde 2020. El festival tiene como objetivo revolucionar la experiencia del festival de cortometrajes y crear una plataforma que apoye y muestre cortometrajes. Además, tiene como objetivo desencadenar un discurso público sobre la aplicación y los cruces de las fronteras nacionales. Únase a nosotros mientras conversamos con Alonso Indacochea, miembro del colectivo cinematográfico Dust Wave, para obtener más información sobre los objetivos del evento, los próximos planes y qué esperar de esta exhibición.
¡Consulta las fechas de este evento a continuación!
The Fronteras Micro-Film Festival is not your typical short film festival!
The Dust Wave film collective has been producing award-winning, no-budget short films since 2020. The festival aims to revolutionize the short film festival experience and create a platform that supports and showcases short films. Moreover, it aims to trigger public discourse about national borders enforcement, and crossings. Join us as we chat with Alosno Indacochea, a member of the Dust Wave film collective, to learn more about the event's objectives, upcoming plans, and what to expect from this exhibition.
Check the dates of this event below!